Most football fans chant this to wind up the opposition player or manager, but for Watford fans it has been an honest question since 1993. Why? Well in 1993 the old Vicarage Road terrace was demolished to be replaced by the Paul Furlong funded, all seater, Vicarage Road stand. At the same time an Vicarage Road icon was removed – The Old scoreboard. It was the size of Star-Destoryer and made up of a bunch of filament light-bulbs, that using 1970 programming they displayed informative and motivational messages to Watford fans.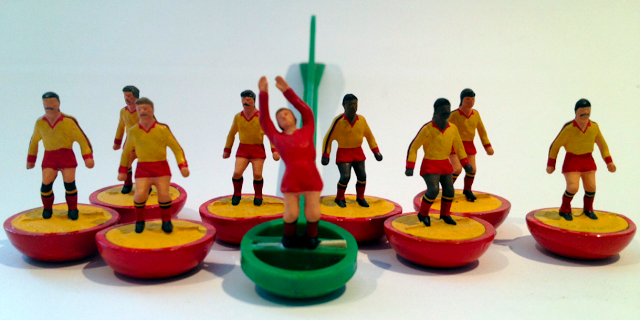 Our list of 100 Object that define Watford Football Club wouldn't be a great as it is without your contributions. Tim Turner, a Watford blogger at Albert McLenaghan's Throw-In sent in what is simply an amazing self made object. Here's Tim's story behind this Subbuteo Team. Those of us growing up in the 70s and 80s […]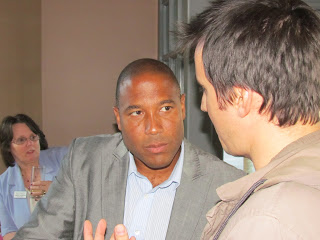 Object #34: Sudbury Court Football Kit
Hunting down the next big talent and signing them for not a lot of money is the dream of every football club. So how did a future England World Cup star end up at Watford Football Club. When we talked to John he told us: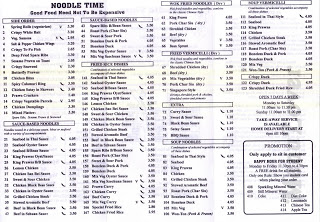 If you've got a story like Matt's that you want to share then please drop us an email. The list is growing – be a part of it!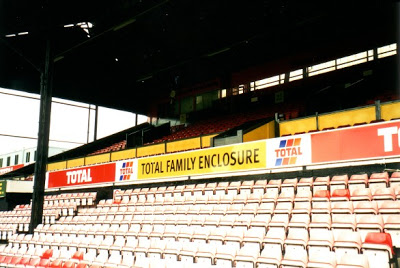 On of our highly suggested object is The Family Encloure/Terrace, but it was Orlander Yard's email of his memories of the North-East of Vicarage Road that gave us the perfect reasons to put it into the list:
Strikers get all the glory when they're banging in the goals, so it's only right that a big chunk of credit for this defensive run goes to Kevin Miller. Don't get me wrong, Colin Foster and Keith Millen performed admirably that season. But Miller was showing us early signs as to why Crystal Palace would end up paying £1.5million for a Division Two goalie in 1997. In fact, then in the Premier League, Palace were the last of the sides unable to breach Miller's defences, during a 0-0 draw in the Fifth Round of the F.A. Cup at Vicarage Road. Not satisfied with that effort, after the disappointing Sunderland result, it took Palace all the way into extra time, before they eventually broke the duck at Selhurst Park in the replay.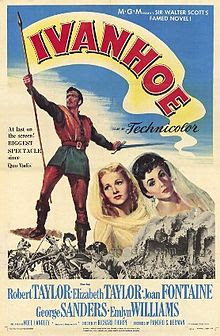 As you do when you meet another Hornet you discuss the hot topic – Danny Graham's transfer to Swansea at that point – I mentioned this list and he told me about how a Knight on horse back invaded the Vicarage Road back in 1952. The Knight was promoting the new Elizabeth Taylor film 'Ivanhoe'. He told me that back then it cost exactly the same to go to the local cinema as it did to watch Watford play (how times have changed) and it had been a close decision that day as to which centre of entertainment he would go to. He chose Watford and enjoyed a very memorable piece of half time entertainment. He couldn't remember who Watford were playing or what the result .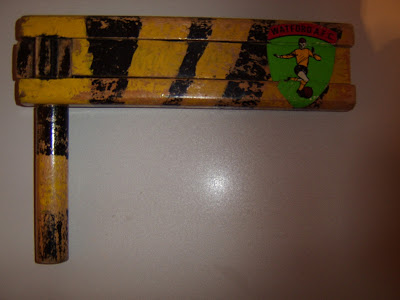 I think my pre-1977 rattle deserves a place in the 'Watford in 100 objects', if not in the Watford Museum. It was hand-painted lovingly by me, whilst my mother looked on in horror.
It was my pride and joy and I took it to all home games, where, standing by the railings below the Shrodells Stand, I would proudly make as much noise as possible, without a thought of Health and Safety Regulations. Regretably those same regulations now deem my rattle as a dangerous weapon, so it is consigned to my cupboard, alongside my Vuvuzela.
Peter Morgan
Aged 49 3/4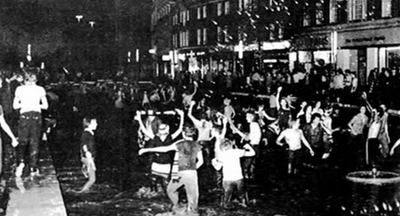 The history of the pond dates back to before 1800, and the Friends of Watford pond website tells use that it's a "natural and unique Pond dates back to before the 1800's. First used by the Victorians for watering horses and livestock brought to Watford's Tuesday markets and later by troops during the Great War." They have an interesting gallery of pictures of the pond through out it's history.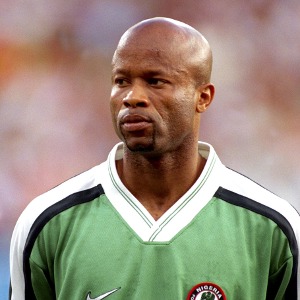 Watford fans didn't let that get in the way of a comedy chant.