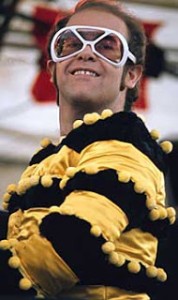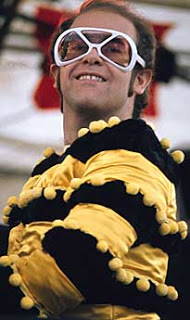 Isn't it fantastic that Elton John is a Watford supporter? Wolves may have Robert Plant, Leicester Kasabian and Coventry The Enemy, but Elton is a different class. I suppose I'm a little jealous of Man City for having the Gallagher brothers as fans, but Elton is not only a great musician, he is also a brilliant ambassador for the club.
His gig at Vicarage Road last night was immense. With his chariamasic and often powerful stage presence I caught myself on a few occasion totally caught up in the music. Especially during "Rocket Man" with a captivating piano solo. He, of course, spoke about the club. He said that "This club can go upwards and upwads, but we're just have to wait". He gave his full support for Malky. He congratulated him and the team for getting through a tough season and dedicated "Sorry Seems to be the Hardest Word" to Malky. Certainly not a phrase Makly needs to say after this last season. He was 'glad' Graham Taylor was the Chairman and dedicated "Candle in The Wind" to him. A great song, but lets hope that the line "Your candle burned out long before, Your legend ever did" is a long way off.
In fact we can be extremely grateful that Elton's candles are still burning and he can do what he does to the club. He might not make it to as many games as he wants, but no fans passion comes down to their attendance record. Yesterday, he basically gave up a days work for the club he loves so much and raised a LOT of cash for the playing budget. Some fans ask for him to spend his money to buy the club again, but this gesture is incredible. Imagine if every fan gave up one days work for the club? You never know, if we have enough builders then we can get the new East Stand!
Thanks for last night Elton, and thanks for everything you've done over the years. We would not be the club we are today if it wasn't for you.
—
We'd also like to say THANK YOU to everyone who has already downloaded the podcast.
You guys downloaded so many in the first 24 hours that we made the Top 10 Sports and Recreation podcasts. Please keep the feedback coming, we'd like to hear it all, good or bad – email podcast@fromtherookeryend.com.
If you have had a listen yet then you can listen and subscribe on iTunes or listen on-line at www.fromtherookeryend.com