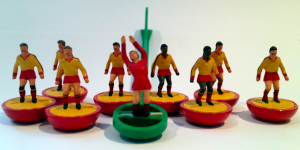 Our list of 100 Object that define Watford Football Club wouldn't be a great as it is without your contributions. Tim Turner, a Watford blogger at Albert McLenaghan's Throw-In sent in what is simply an amazing self made object. Here's Tim's story behind this Subbuteo Team.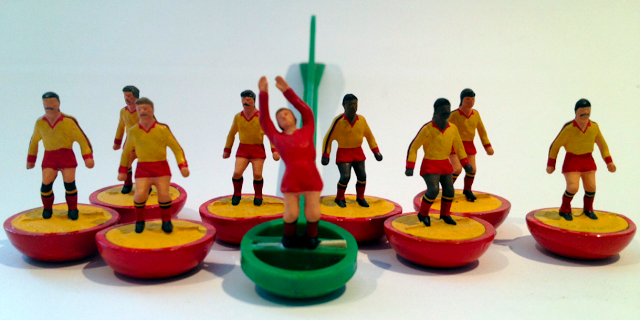 Those of us growing up in the 70s and 80s didn't have the likes of Football Manager to play, but we did have our own football simulation game: Subbuteo.
Once you'd got the basic set (a pitch, two goals, two teams and a ball), you could buy all sorts of extras, from stands and floodlights to miniature fans. But the first thing you did was buy your own team. Subbuteo helpfully published a catalogue listing all the differently painted teams they sold and which clubs the colours applied to. So the team in yellow-gold shirts and black shorts, for example, was not just Watford, but also Wolverhampton Wanderers, Hull City and (I seem to remember) Newport County.
That was all very well in the early 70s, but as kits became showier, my Subbuteo Hornets began to look out of date. No problem. As a prolific builder of Airfix kits, I was already a dab hand with a fine paintbrush and a tin of Humbrol. I decided to pimp my team.
Having recently found the box containing my Subbuteo Watford team in my mum's attic, I'm astonished at how good a job I did. How on earth did I manage to paint those fine red and black stripes down the arms? The precise shape of the collars? The moustaches?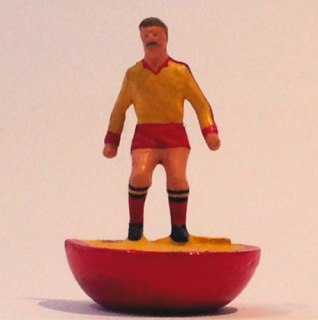 Moustaches? Oh yes. I didn't stop at updating the kit: I wanted my Subbuteo team to look like the real thing, so I made sure they had the right colour hair (there seems to have been a choice between black and brown), and moustaches where appropriate – and there were plenty of those, this being the era of Dennis Booth, Ian Bolton and co.
I also brought the racial balance of the team in line with reality. In Subbuteo's world, all footballers were fair-skinned – well, pink – but Watford had a couple of black players by this time, so my miniature Hornets did too.
Rediscovering the box, I was surprised to find that there were actually two teams in it: one with red shorts and matching bases, and one with black shorts and bases. (Clearly, even then, I couldn't decide which side of the great debate to come down on.) The work on the red team is more accomplished, but there are only nine of them, so either I never finished them, or a couple got trodden on or chewed by the dog – a constant risk if you played on the floor. Mind you, looking back now, I have a feeling that I spent a lot longer painting my Watford team than actually playing with it.
By Tim Turner