Since the start of the 2010-2011 season FTRE has had a column in the Watford FC matchday programmes. They are normally on page 63 so please check them out.
Check out the From The Rookery End column in your local version of MyLocalNews magazine – delivered free to more than 52,000 homes and businesses across south west Hertfordshire.
---
The Watford Observer have been fantastic supporters of the podcast and featured many articles about our activities.
Cherished memories for Hornets fans (1 August 2011)
Support Watford by wearing Graham-inspired vests (27 April 2011)
Bristol City goalkeeper David James on latest Watford FC podcast (24 February 2011)
Watford FC podcast youth special (24 November 2010)
Interview with Scott Loach on latest 'From the Rookery End' podcast (26 October 2010)
3rd edition of 'From the Rookery End' podcast released today (2 September 2010)
What PA announcements do you want to hear? (18 August 2010)
Lloyd Doyley appears on second Watford FC podcast (5 August 2010)
What headlines would you like to see? (21 July 2010)
New Watford FC podcast (3 June 2010)
---
Sports Tonight Live asked if we fancied being on the TV and we said YES! (November 2011 – dead link now, sorry!)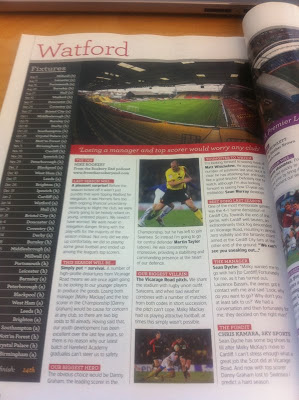 ---
World Soccer's "Football 2012" magazine featured an article written by us at FTRE all about our thoughts on last season and our hopes for the 2011-12 season.
---
Mike was asked to contribute to the Guardian's Championship 2011-12 season preview: the bloggers' view.
---
Another big supporter of From The Rookery End has been The Football League paper, with several feature articles.