Against all odds it's been a season to savour. Tipped by all and sundry to be relegated, it looks like we are only just going to miss out on the play-offs. Along the way we have seen some memorable team performances, some fantastic individual ones as well as goals, goals, goals! Worth celebrating don't you think? Well we at From the Rookery End think.
So, in a bid to show our support and appreciation for the efforts our boys have put in this year, Saturday 30th April at Watford v QPR is to be the first ever…
Wear a vest for Danny Day!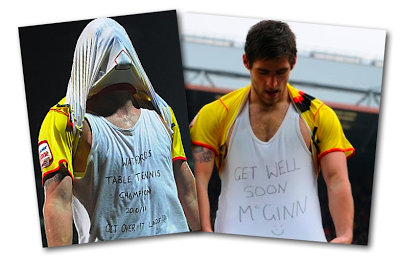 As you will have noticed, our very own hotshot striker Danny Graham loves getting his message across by scribbling a few words on his vest and revealing it to the world after scoring. Well, now it's our turn!
We want to show Danny and the team how much we have appreciated their efforts this year, and what better way to do so than by donning a Danny style vest!All we are asking you to do is:
1) Find a vest – look in your draws (maybe your Dad's) or pop to Primark – £3.50 for 2.

2) Find a felt tip pen

3) Write a message of support or thanks to Watford or your favourite player on the vest.

4) Wear it to the Vic over your Watford shirt on April 30 for the QPR game!
As you can see from our pictures, Danny Graham is fully behind the day.
There is lots to think about, what to write, how to make a vest and how do you win the signed Danny Graham vest? Well below are some key pieces of information that will help:
This is a great chance for us all to say thanks to our Hornets heroes, so get it in your diary. 30 April 2011. Wear a vest for Danny Day! Be a part of it.
In The Press
BBC Three Counties Radio
Mike (and Danny) were interviewed on Thursday 28th April to talk about the big day. Thanks to Rob and the team for all their support.
Club Website
Thanks to the media team at the club for their support and help on the day and for putting a story up on the official club site (no longer available – sorry!).
Watford Observer
And thanks to Frank and the guys at the Watford Observer for the story on page 70 of the Friday 29th April 2011 edition and putting a story up online.