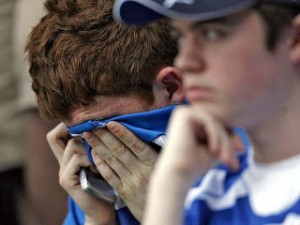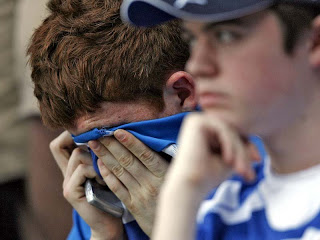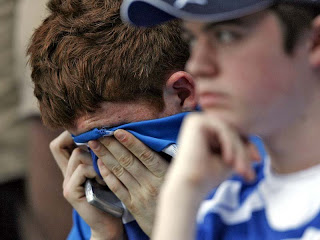 I don't mind admitting it. I'm so excited that I reckon I could be sick or pass out at any given moment. I refer of course to the beginning of the final series of Big Brother, but it probably hasn't escaped your attention that the World Cup starts this week too.
It isn't of course Davina and her latest array of fame hungry misfits, but the start of the football that has got me and the rest of the world so giddy with glee. Football fans across the world are eagerly plotting routes to the Final for their various teams and taking part in endless speculation about starting elevens and gossiping about possible formations. I'm even enjoying the fact that every single advertisement is seemingly linked to the World Cup.
And all this despite the depressing knowledge that it will inevitability all end in tears.
A combination of pressure from us back home in blighty and the limitations of the average assortment of players that will be wearing the three lions in South Africa mean that (in my opinion) the chances of England getting anywhere near the Final are slim. I still can't wait though. I've still got butterflies. I'm still toying with the idea of taking the afternoon off to watch South Africa take on Mexico.
Anyway, in thinking about the England games and how much I'm looking forward to them, I started to recall some of the big games that Watford have been involved in. The Cup matches, the Play-Offs, the relegation six pointers. Now, those of you who have read what I write before will know that I think we're pretty luck to be Watford fans. We've had some good times and thinking back to when it has really counted, unlike England, Watford have rarely let us down.
I wasn't old enough to go to the '84 Cup Final or any of the fun and games leading up to that, so my first real taste of big match action was the 1987 FA Cup Semi Final with Spurs.
The game was at Villa Park and my Grandparents lived not far away in Stratford upon Avon, so we travelled up to stay with them the day before. I was so excited. The papers were full of build up, FA Cup Semi Final weekend was big news in those days and I proudly devoured each word. The car was bedecked in as much Watford paraphernalia as I could lay my hands on – I wanted everyone to know where I was going.
The morning of the game dawned and I walked with Dad to the local shop to get a paper. The big story surrounding the game was who would play in goal for the Hornets. With the awesome Tony Coton unavailable, Steve Sherwood was a more than able deputy, but a finger injury sustained in training meant he was unlikely to feature. Rumours began to circulate about who would replace him and a story about a wine waiter just wouldn't go away…
Inside the ground, Villa Park was a joy to behold. The sea of yellow was, for a boy of 10, a truly spectacular and awe inspiring sight. The noise was equally memorable, singing coming from every part of the ground and the atmosphere becoming increasingly as kick off drew closer.
As a youngster I don't think I fully comprehended the importance of Gary Plumley appearing in goal. I knew I had never heard of him before and certainly hadn't seen him in action, but I kind of figured if he was going to play for my club in one of the biggest games in its history, he must be OK.
Even at my tender years, I was insightful enough to know however, that when the first goal went in, it was pretty much all over.
I couldn't believe it. All the build up. All the talking about it with my 8 year old brother when we should have been in bed. All the decorating of the car. The getting my replica kit ready the night before. After all that, we were going to lose. I cried.
Looking back at that game, it remains one of my favourite and most vivid memories. I can still remember the feeling before the game, the unadulterated excitement and anticipation. The pride in my team. The sheer delight that I was actually going to an FA Cup Semi Final. I also remember the despair. I knew immediately after the first goal that I was going to cry. I didn't want to, but quickly realised I couldn't help it. The tears flowed. From a high to a low with one kick of a football.
There have been lows since of course. Being relegated is never fun, and it's happened four times in my Watford supporting career. We could see those coming a long way off though, we had time to get ready and prepare ourselves. When it's been a one shot deal, one game in which to do the business, a game with a big build up, a game that we've been excited about they have more often than not delivered.
When it really, really matters, we are rarely left disappointed.
Just one more reason to be grateful for being a Hornet.
Come on You Horns!
Oh, and for pity's sake – Come on England! PS As always, we want to hear from you on this subject. Have you ever cried at the football for any reason? Has your team ever let you down? Can you remember the despair you felt when the result didn't go your way? Let us know!