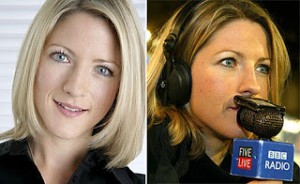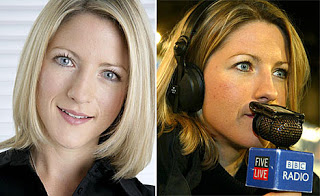 Whilst the opening Friday night of the season was memorable for a number of reasons – John Eustace scoring the first goal of the entire season, Danny Graham's splendid brace and of course a Watford away win, it was also a big occcasion for the From the Rookery End podcast.
We got our very first national plug!
It came on BBC Radio Five Live when Jacqui Oatley, providing commentary for the game, explained that she had listened to a "rather good podcast" before the game called, yep, you've guessed it, From the Rookery End! Delighted by this national exposure, Mike managed to track down Jacqui – mainly to congratulate her on her great taste in podcasts, but also to ask about her views on Watford, the World Cup and life as a Commentator.
Mike spoke to Jacqui as she was preparing for her trip to cover Wolves V Stoke for the BBC last weekend…
Mike: Hi Jacqui and thanks so much for taking the time to talk to me today. You commentated on Watford's away win at Norwich on the opening day. Were you surprised by the result?
Jacqui: I was. Paul Lambert has brought in some good new players after winning the league last season and with a big Carrow Road crowd guaranteed, it looked a tough start for Watford. Malky has lost a number of experienced players, the financial situation is well documented and it looks like a young squad.

What impressed me was how confident and organised Watford looked from the first whistle. I had picked up a sense of optimism amongst Watford fans and had heard that Danny Graham and Marvin Sordell had been linking up well in training and pre-season, but I didn't think they would perform together so well so quickly.

What do your colleagues in the media think of Watford?
I don't think there is necessarily a common view about Watford these days. We all think of the iconic figures from years gone by like Luther Blissett, John Barnes, Elton John and Graham Taylor. But financial problems have been high on the agenda since Luca Vialli came in and spent a lot of money, so they've had a tough time of it since then.

Whilst at the World Cup, you worked a lot with Graham Taylor. Graham is rightly idolised by all Watford fans – is he as nice a guy as we all hope and think he is?
Graham is a genuinely lovely bloke and one of my favourite people to work with. We spent more time together in South Africa than expected after long journeys between grounds, but he really is a lovely chap.
We had some good fun – a four hour round trip to Rustenburg turned into an eight hour one as we got stuck in traffic and suffered from dodgy directions.
What really came through is his passion for Watford. He really cares about the club and is hugely loyal. It was clear how responsible he feels for the club now he is Chairman.
Watford are really lucky to have a man that cares so much, as it would have been easy for him to say no. He has his media responsibilities and also a family he wants to spend time with. He remains loyal to Watford though and really wants to do his bit. He also has a lot of time for Malky Mackay.

That's great to hear. Talking about the World Cup – what was the highlight for you?
My personal highlight was the fact that South Africa hosted the tournament so well. Whilst the football wasn't always amazing, the tournament itself went really well and a lot of the pre-World Cup fears about safety weren't realised.
My Mum is from South Africa and I know she was pleased to see it go to plan. I remember her telling me that she never thought she'd see the day that South Africa plays host to such a massive event, so it was great to see it go so well.
It was also nice to catch up with colleagues. During the season you spend a lot of time travelling to and working at different games on your own, so it was good to catch up with some of them during the tournament. I spent time talking football with the likes of Graham Taylor, Danny Mills, Pat Nevin, David Pleat and Martin Keown – all good people with some cracking stories!

Apart from the obvious, were there any players that stood out for you at the tournament?
Diego Perez of Uruguay (and Monaco). He's a tough, ball winning midfielder and I think he'd be brilliant in the Premier League.

We can't talk about the World Cup without mentioning England's woeful tournament. Can you sum up what went wrong in a sentence?
In a sentence? Are you joking?! I think the manager has to take his fair share of responsibility. He has proved himself to be a great club manager, but tournament football is different to anything he'd experienced before. Having spoken to someone who knows some of the players, it seems Capello's non-communicative, stand-offish manner over a period of weeks had an adverse effect on the squad. Plus the fact that they didn't know the line-up until a couple of hours before kick-off – that really frustrated the players as they couldn't practice team shape or psych themselves up. He's been a very successful manager, but I think this was a steep learning curve for him.
In terms of sticking with him, from a financial point of view the FA didn't have much choice, given the removal of that clause which would have allowed them to terminate the contract without compensation. They couldn't afford to pay him off as well as pay for a new manager. And Roy Hodgson was on his way to Liverpool, which meant they'd just missed out on the only ideal replacement (in my view). Hopefully Capello learnt a great deal from the South Africa experience.
When it comes to the team itself, I don't think you can just ditch all the experienced players on the back of a poor tournament. The new breed of youngsters do need to come in, but there needs to be a mix of youth and experience. Players like John Terry and Rio Ferdinand continue to suffer with injuries and may not be as mobile as they were, so looking for their successors is sensible, but we saw again this week what Steven Gerrard is capable of – he was on fire.

Back home, this morning there are reports that Man City are prepared to pay Zlatan Ibrahomovic £500,000 a week. Are those that work in the game as shocked at these sort of figures as the fans?
Yes. I think the one that we all raised eyebrows at was Yaya Toure. His wages are huge for someone who wasn't a key figure in the Barcelona team.
There is a lot of money in the game, but the worry is the average fan being priced out of the game. I know that Watford fans were charged £31 for a ticket to the Norwich game. This is a game that is on the TV and on a Friday night. Personally I think clubs would be better off charging less for tickets and getting full stadiums.
Being at a game is completely different to watching on TV. It's an experience that you simply can't get from sitting at home. On top of that, the clubs would generate extra income from fans buying food and merchandise.
The danger is we will breed a generation of TV supporters and that isn't healthy for the future of the game.

Are you able to switch off from football when you aren't working?
I've always been bad at switching off because football's my passion as well as my job. But I've got better at it in the last year or so. My boyfriend and I have plenty of other things to talk about and I love seeing my girlie friends too – we don't debate how many holding midfielders Manchester City have or how far Connor Wickham can go in his career. It's great to switch off with them. I must confess I like a bit of "Loose Women" on ITV to break up a prep day and am currently really enjoying watching "Undercover Boss" on Channel 4, although I always seem to end up blubbing at the end!
Thanks so much for taking the time to listen to the podcast and subsequently securing your place in the 'From the Rookery End' hall of fame by mentioning it in your commentary last weekend.
Are podcasts and blogs something you and your fellow broadcasters and journalists are using more of as part of your work?
Different people prepare for games in different ways so I can only speak for myself. But, if you are doing live commentary your prep would be more in-depth and take longer than if you are providing updates.
I listen to a lot of podcasts, often in the car. They provide a really well informed view of what is going on at a particular club. The people responsible for them generally go to a lot of games, so are able to provide a real insight as to what the feeling is and what expectations are. They can be really helpful.
Are you able to enjoy the games you commentate on?
It's very different to watching a game as a fan. When you're reporting, you have to concentrate all the time in case the next moment is one of the most significant in the game. Who put the cross in, how far the shot was from goal, all that sort of stuff. I enjoy commentating more than reporting as you can really get involved in the game, but it is great to go to games as a supporter too – that's really important to me.
Ahead of our chat I saw Roy Keane on TV and I'll be honest, the thought of interviewing him strikes fear into my heart. What's the hardest interview you've ever done?
Ha, I actually like Roy Keane. He's good to interview. The toughest experience I had was as a pitchside reporter at the 2006 FA Cup Final. I was covering West Ham and was seconds away from getting to interview the players as FA Cup winners. As we all know, Steven Gerrard scored that late equaliser and Liverpool went on to win. Instead of interviewing jubilant players I had to go onto the pitch as soon as the final whistle blew and try to talk to players who had gone agonisingly close to being Cup winners.
It was a surreal experience, almost like walking into a computer game. Players everywhere were crying and clearly in no fit state to give an interview. Alan Pardew was distraught and made it clear he couldn't talk and in the end it was just Teddy Sheringham who was willing and able to answer a few questions. I was grateful to him for that as he managed to give me a good interview in difficult circumstances.
Finally, have you ever made a memorable on air gaffe?
I'm touching wood now, but I can't think of a major one. Or maybe there are just too many to stand out in my mind! Here's a Watford-related story for you though…
If you're a commentator who's only reporting on a game for 5 Live, you still commentate off-air when it looks like there's a chance of a goal (they're recording the whole time back in the studio). That way the clip can be played later on 606 or another show to illustrate the game or goal. I was covering Spurs v Watford in the Premier League when Spurs goalkeeper Paul Robinson lined up to take a free kick by his own penalty area. Seeing as you're a Watford fan, I don't need to remind you what happened next. I didn't feel any need to commentate. What could possibly happen from a free kick so far back?! Anyway, the ball bounced once in front of Ben Foster then sailed over his head and into the net. I was gutted that I had missed it. I wasn't to know of course, but it would have been a memorable goal to commentate on.
Thanks so much for reminding us! Anyway, Jacqui that's it, thanks for being such a star and enjoy the season.