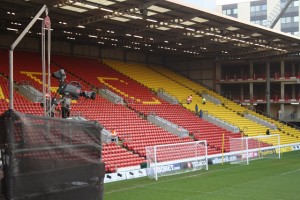 We're always looking for new, fun and exciting things to do here at From the Rookery End so today we're trying something new…
We'll be tweeting and posing questions on our Facebook page throughout today's televised fixture with Reading and it is your responses that will help shape the podcast, which will be out in the next couple of days. Get involved as you watch the game, tweet us, facebook us and if you see us at the game tell us!
We'll also be posting pictures and comment as the game goes on right here on the website, so keep refreshing this page to see our updates as the game goes on!
Enjoy!
Watford V Reading – As it happens…
4:00pm – The camera's are in place. What sort of performance will the watching millions see from the Hornets today?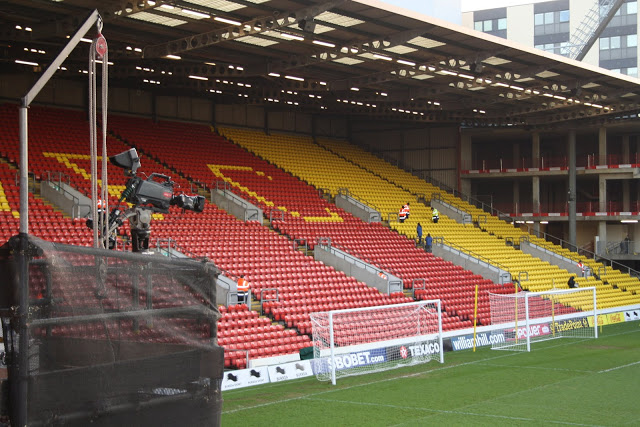 4:30pm – Jon and Jason, two-thirds of the From The Rookery End team are in place…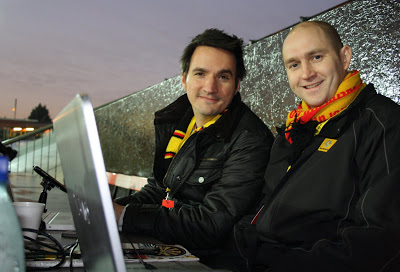 4:35pm – The teams are in…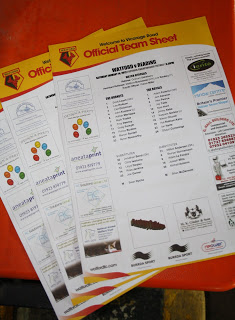 Disappointing to see that Jonathan Hogg is missing from the sta
5:05 – Warm ups complete…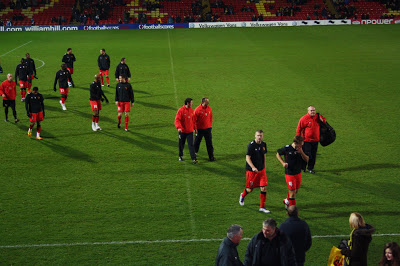 5:20pm – Kick off, we're underway..
5:31pm – A scrappy start to the game, referee with a bit to do and free kicks in dangerous positions for both teams.
5:33pm – Watford have been watching Blackburn Rovers too much – Eustace makes a hash of a corner – pretending not to take it but actually tapping it when positioning the ball in the quadrant. Reading are wise to it and steal possession. Poor from the Hornets.
5:34pm – A Mark Yeates free kick is comfortable saved by Reading 'keeper Federici.
5:39pm – 'Are you Atwell in disguise' sing the Rookery End. The officials not endear ing themselves to the home faithful with a range of baffling decisions. They need to up their game.
5:49 pm – GOAL! An own goal but a goal nonetheless! Great work from Deeney down the right to force the error, but even better work from Jason who had just nipped to the toilet! Lucky loo break!
5:49pm – The Rookery End celebrates!…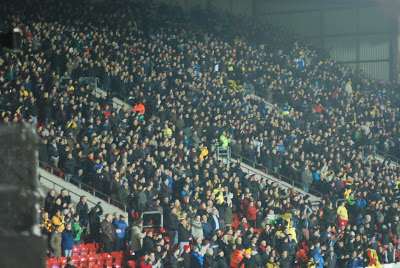 5:50pm – So Watford fans, with Jason otherwise engaged when the goal went in here at Vicarage Road, what Watford moments have you missed and why? Let us know and be a part of the new From the Rookery End podcast!
6:02pm – Bitterly cold here at WD18, but Troy Deeney warms the hands of Federici with a decent effort.
6:02pm – It's the visitors that score though, Kebe equalising with a header from close range. "Dickinson was nowhere" is Jason's damning verdict. "Get back to the loo" is the response to my podcast co-host.
6:07pm – Having seen replays Robson Kanu should be enjoying an early (warm) bath, not celebrating an assist. His challenge on Yeates was an absolute stinker. Really, really nasty.
6:09pm – Half Time, 1-1, and the stand out performers have been the officials. Poor from the men in black…



6:28pm We're underway in the 2nd half. Watford need to up their game if they are to take three points and impress the Sky Sports viewers…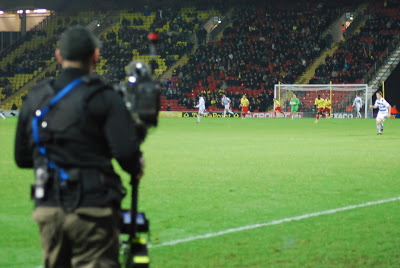 6:32pm – Troy Deeney has been at the heart of most things good for Watford this evening, but he get's that one all wrong and slices a speculative shot into the crowd. The officials remain the panto villains of the piece. Still 1-1.
6:35pm – The Reading substitutes are taking some deserved stick for their headgear. Ludicrous.
6:40pm – Mark Yeates goes close, but not close enough, with a free kick…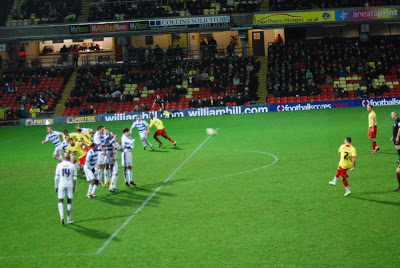 6:48pm – Jason has suggested a tactical change with Forsyth the man he wants replaced. This suggestion also applies to prime time BBC programming.
6:50pm – "You don't know what you're doing" – 11,200 football fans. I think the ref's wife may 'forget' to Sky plus this one.
6:54pm – The referee correctly decides that Lee Hodson didn't bring down Noel Hunt in the box. Reading fans, players and staff apoplectic. Amusing.
7:00pm – Jason called it, Dyche responds. Forsyth off, Ross Jenkins Mk II on. Deeney again suffers at the hands of a bobble as the ball takes a kick mid strike. Net result, the ball is in the Rookery.
7:04pm – Oh for the ball still to be nestling in the Rookery end. Instead it's in the back of the Watford net and the Hornets trail with about five minutes to go. Even the Reading substitutes bonkers bobble hats can't cheer me up now.
7:05pm – I lied. Their headgear is still making me chuckle.
7:11pm – Into injury time and it's been tough for us Watford fans, this one…
7:14pm – All over. I don't like the cold. Or Noel Hunt. 1-2 Reading.
Download the latest podcast via iTunes. Plus, get FTRE blog posts sent straight to your inbox. Simply enter your email address in the "Subscribe by Email" box in the right hand column near the top of this page. Or if you're really technical you can use this RSS code.