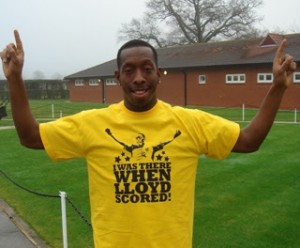 With excitement mounting ahead of the first event of Lloyd Doyley's testimonial year, Mike caught up with the man himself to talk about his memorable ten years as a Hornet…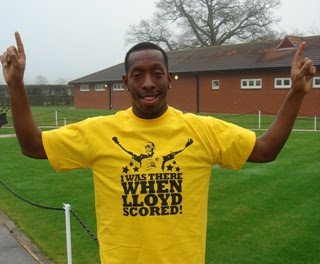 Some clubs are lucky enough to have a player that is special. A player that fans know and trust. A player that gives of his best whatever the circumstances. A player that plays for the badge and the supporters. A player that sticks around. A player that sticks around for ten years. Watford are one of those clubs. Lloyd Doyley is one of those players.
After well over 300 first team performances and eleven seasons (and counting!), Lloyd is in his richly deserved
testimonial year
and as his first event draws closer, Mike caught up with the versatile defender to talk about his memories of the past ten years.
And what memories he has. Lloyd began by talking about his happiest day as a Hornet.
Apart from my début, the Play Off Final at the Millennium Stadium was something else. What an experience. To be able to take part in a game like that – one that is watched all over the world – is amazing, but to actually win it is it is unreal.
The match itself is a bit of a blur, but I remember two main things. You may have thought that we'd have been going mad celebrating, but to be honest by about 7pm I was absolutely exhausted. Me and the rest of the boys put so much into that performance, we were absolutely shattered. Very happy, but very tired. I also remember the fans. Coming out into that sea of noise and seeing the yellow, red and black everywhere was special. There always feels like there has been a strong bond between the fans and the team and that day it felt stronger than ever. The supporters really helped us get of to a good start that day. They were amazing.
So what of the Watford faithful? As Watford's longest serving current player, what does he think about his relationship with the fans?
The supporters have been superb throughout my career. I think it helps that I have come through the youth team – the fans seem to associate with those of us that have come through the ranks and that's still the case today. The fact that they have seen me come into the first team as a complete unknown and improve and develop means they always get behind me. I definitely feel a special bond with the Watford fans – I hope they feel the same!
Over the years Lloyd has had a whole host of team-mates, but who does he rate as the best he's played with?
Marlon was absolutely deadly. He wanted to do one thing – score goals, and he did that really well for us. On his day he was unplayable, absolutely ruthless. He used to moan all the time which used to wind us up a bit, but I think that showed how desperate he was to score. No-one can deny how good he was the year we went up.
Another player who was instrumental that season was Matthew Spring. He obviously got off to a tough start, it's never going to be easy for a player signing from Luton, but he soon won the fans over. Technically Matt was awesome and I was sorry to see him go.
The best former team-mate has to be Ashley Young. You just need to look at what he's gone on to achieve to realise what a talent he is. He got off to a brilliant start, scoring in his first game when his shirt was still about four sizes too big! What a player though, I'm still in touch with Ash and really hope he manages to get down for a few of my testimonial events.
And what of the current crop? If Lloyd was a Watford fan, whose name would he get on the back of his replica shirt?
Haha, that's a tough one. Am I allowed mine? If not, I'd go for Jonathan Hogg and not just because it's only four letters and would be quite cheap to do! He's been superb since he joined us and is a great professional. I've been really impressed with him and I think the fans have been too. They can see how hard he works in a game and that means a lot to supporters. They appreciate seeing players put a shift in.
There is a slight problem with him though – he moans like no-one else on earth. He's like a young Victor Meldrew! In training, during games, whenever, he's constantly having a whinge. I think it's because he wants the best out of everyone at all times and he basically just wants to win every time he plays, but I'd hate to have to put up with him at home. A great player though and I'm glad he's one of us.
So with under 300 games under his belt, 'Lloydinho' must have some interesting incidents he remembers?
My first team career obviously got off to a slightly weird start when I cam on as a sub for Pierre Issa who was dropped off a stretcher as he was carried round the pitch. I have to admit I was focussed on my performance and getting going, but looking back it must have been a nightmare for Pierre. I hope it never happens to me!
I often think about a particular incident that took place in a home game with Palace. The ball came towards me and I realised it was going to clear my head. To this day I have no idea why I did it, but I reached up and caught the ball. It was a good catch, any goalkeeper would have been proud, but obviously it wasn't the best thing to do. The next thing I knew there were three or four Palace players steaming towards me, so I just threw the ball out of play and ran! Strangely I was booked for throwing the ball away, not for the handball, but it's up there as one of the most random things I've ever done on a football pitch!
Of course, there is one thing that everyone mentions when talking about Lloyd. Not wanting to break with tradition – Lloyd, talk to us about the goal!
Every time I speak to a supporter they mention the goal and I wouldn't have it any other way! I'm proud to have scored, although would have liked to have done it sooner and would like to have scored more since. Some people have suggested that in some ways just scoring one is better as on it's own it is more memorable, but I can assure you I want more!
A lot has been made of my so called rivalry with Mapps (Adrian Mariappa) and he has cracked on and scored a few, but he's also weighed in with a few own goals too, so I think I'm going to say we're pretty much level.
As for the goal itself, I'll obviously never forget it. Don't ask me what I was doing steaming into the box like that, but I'm glad I was. Making last ditch tackles and stopping the opposition scoring is my bread and butter and I get a buzz from that, but nothing comes close to the feeling of scoring a goal. Everyone knows when you score – it's in the papers, on the radio, everywhere. A tackle can be forgotten in an instant whilst a goal is in the record books forever. That's why I want more!
The reaction from the supporters was incredible. I remember there was a bit of a pause after the goal went in, it was at the Vicarage Road end and I think quite a few people may have thought Nathan (Ellington) had scored it, but when everyone realised it was my goal, the place just went mad. The noise was unbelievable and I'll never forget that moment.
No Watford fan is likely to forget it for a while either! Few are likely to forget Lloyd;s contribution to the club in a hurry either, so is there a message for the Watford fans out there?
A huge, huge vote of thanks. The support I've had has been brilliant and I can't tell you how much of a difference it makes. When you know you have the fans on your side and that they'll support you it gives you so much confidence and makes going out and performing much easier.
I absolutely love it at Watford and that is largely thanks to the fans. I'm really grateful to each and everyone who comes to watch and I can't wait to meet as many fans as possible during my testimonial year, when I'll be able to say thanks face to face. I'll also keep practicing my shooting!
The first event of Lloyd's testimonial year takes place on Sunday 18 March and tickets are available now. The Lloyd Doyley Game-show Extravaganza takes place at Area nightclub in Watford between 2:30 and 5:30pm and will give you the opportunity to take part in a number of game show style games with Lloyd and plenty of your other Hornets heroes.
There will also be money can't buy prizes, many provided by Lloyd himself such as match worn boots and shirts. Tickets are just £10 for adults and £5 for children and are available from
www.ldx2012.om
now.
Don't miss this chance to see the Watford team in action like you've never seen them before – get your tickets today!