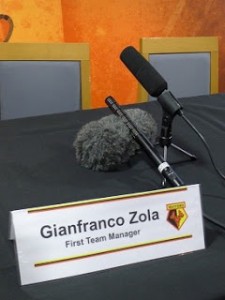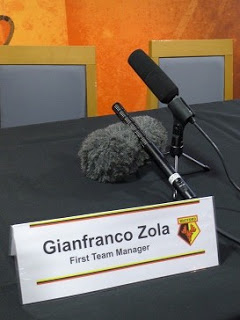 There it is then. He's appeared in an official Watford club tie on TV. It can't get any more official than that. Gianfranco Zola is Watford's First Team Manager.
It's obviously an interesting time to be a Watford supporter, so here at From the Rookery End, we have tried to guage the mood of fellow fans by asking them to sum up their current feelings in one word. We got a fantastic response (Sometimes more than one word, but these are exciting times – we forgive you!), and these are collated bellow. Feel free to add your thoughts in the comments section – we'd love to hear how you are feeling!
***STOP PRESS***STOP PRESS***STOP PRESS***STOP PRESS***STOP PRESS***

We have managed to get hold of Gianfranco Zola's name card that was used at the official press conference (pictured above). We'll be giving this away in a competition soon, so keep your eyes on www.fromtherookeryend.com and our Facebook page for details on how to win. Good luck!
Now, onto your one-word summaries:
Curtis (@curtiford): Shocked! This time last year I was worried about staying in the Championship. Now I hear words like Premiership and ambition.
James Tully (@plumbertully): Fantastic! Is it really happening?!
Alan Ahern (@alanahern54): Wow!
David Lewy (@onedavidlewy): Unfamiliar. Potential. Exotic.
Tom Middleditch (@middle82): Excited.
Austen Humphries (@afhumphries): Odd.
Dan (@lutondown): Orgasmic.
Iain Jordan (@twentyninth): EIEIEIO!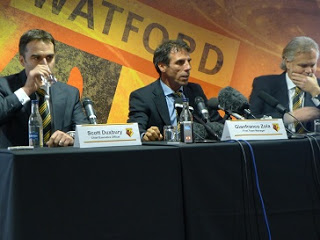 Zola takes centre stage
Kishan Rees (@_suits_you_sir): Surreal.
'In The Wolf's Mouth' Blog (@WFCWolfsMouth): Extravagant.
'Watford Willie' (@watfordwillie): Extremelyeggcited.
Keith Eldridge (@keitheldridge): Zo Pozzotive. (This is brilliant Keith!)
Emma-Louise Jones (@jonesyWFC): Fantastico!
Hazel Roberts (@hazelaroberts): Weird!
Adam Holloway (@hollowayadam): Surreal.
Jonny Andrews (@jonny18andrews): Surreal.
Gareth Reynolds (@garethdreynolds): Expectant.
Matt Page (@matt_s_page): Nervous.
Patrick McNicholas (@patmcnicholas): Optimistic.
'P' (@twiterlander): Exciting.
'Chap' (mc_chap): Magnifico.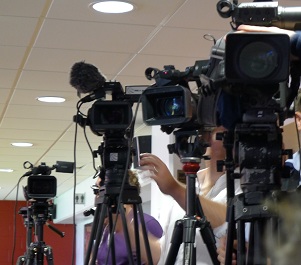 The view that greeted Watford's new boss…
Ian Fuller (@iainjfuller): Avidity. Dycheless.
Chris (@chriswfc): Excitedlycautiouslyworryinglyecstaticallyhappilyanxiouslyoptimistic!
Lendal (@lendal): Euphoric-ish.
Mark Hancock (@markhhancock): Strange.
Liam Ahern (@LiamAhern78): Real!
Katy Parles (@ktdude): Cautiouslyoptimistic!
Harry Cresswell (@hkcresswell): Incredible.
Jamie Wiseman (@wisey93): Optimistic.
Neil Roberts (@neilroberts01): Excited.
So, you've read how these guys feel (Thanks to all of you for responding, there have been some brilliant responses). Now tell us, how are YOU feeling?…
Come on You Horns!