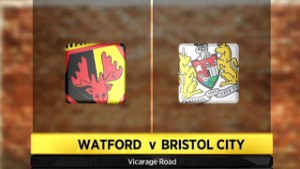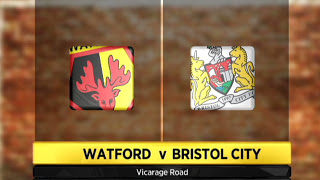 Well then. Bristol City. 2-2. It was all a bit weird really wasn't it? Watford and their hastily assembled band of loanees and new signings showed glimpses of hat could be achieved under Zola and the new Pozzo regime, whilst also continuing to treat us to enough kamikaze defending to last us a lifetime. And there were some people saying Watford had lost heir identity…
The crowd was very quiet – a definite trend for the season thus far, and I think it's because we're in a state of flux. There isn't really enough to get too excited about, whilst there is an underlying feeling (hope?) that the bad stuff will get sorted out – eventually. Personally I get the feeling that most Watford fans understand the situation we're in, and whilst none of us would choose to go on a winless streak, we recognise that Rome wasn't built in a day.
Personally I found it hard to sum up how I felt after yesterday's game. Semi-deflated, I guess. But that's just me – I wanted to know how my fellow Hornets supporters felt, so via the wonderful medium of Twitter, I asked Watford supporters to give me one positive and one negative from the Bristol City performance. There was a great response, and I have listed them below. We'd love to hear yours too, so feel free to add them in the comments box – it's really interesting to guage thoughts at a time that is proving quite hard to get to grips with.
Over to the good folk of Twitter (Thanks to everyone for their replies!). Remember, the question was one positive, and one negative…
@demonskot – Positive: We didn't lose, Negative: We didn't win.
@PatMcNicholas – Positive: Deeney's game changing performance, Negative: Cassetti and other loans.
@therumpokid1 – Positive: Deeney looked strong, purposeful and changed the game, Negative: Sean Murray has gone a little off the boil recently.
@Chris_G_ – Positive: Deeney, unfortunately, Negative: Defence.
@Chris_Nunn – Positive: Deeney looks very sharp and hungry, something that's been lacking. Negative: We can't seem to defend in the box.
@davesto – Positive: Can see what Zola's doing he needs time. Negative: Some of the loanees not good enough, too many in starting XI.
@benclarkewfc29 – Positive: We are getting better and starting to gel, Negative: Only Deeney seemed able to make a difference in the final third.
@BoltonsBoots – Posiive: Deeney's return made us look more likely to score, Negative: Defence still has work to do, still looking frail.
@SimonGrosse – Positive: Troy Deeney slotted nicely into the new team and had a big impact, Negative: Atmosphere at Vicarage Road needs a boost.
@alcastle01 – Positive: Tory Deeney, Negative: Defensive frailties.
@khvb2 – Positive: Playing two strikers in the second half, Negative: The defence throughout.
@willyworthWorth – Positive: Chalobah, calm, composed ad allowed midfield to play, Negative: 3-5-2, substituting defenders to win the game.
@Carlwfc – Positive: Troy Deeney back up front looked a different team, Negatve: defending (Cassetti) and Zola's tactics.
@ryankman – Positive: Predictions about Deeney's comeback proved to be pessimistic. Negative: Defence looked suspect and poor marking at times.
@corbyhornet – Positive: Great passing and ball retention, Negative: Can't defend to save our lives!
@goldenboyLB – Positive: Chalobah ran the midfield, Negative: Yeates is still playing.
@TheJordanllyas – Positive: Outplayed Bristol City all game, Negative: Still conceding sloppy goals.
@babyhornetdan – Positive: We created chances, Negative: most were tame and straight at the keeper.
@WFCPaul82 – Positive: The return of Troy Deeney, Negative: The tiredness in the last 10 minutes form everyone.
@AmyWFC – Positive: Vydra's goal was good, he's my favourite at the moment! Negative: Full backs are just not good enough.
@jonny18andrews – Positive: Deeney, Negative: Cassetti.
@Iveco76 – Positive: We were shooting loads, Negative: We're not very good at it!
@footbalcoachjr – Positive: The passing game is coming on well, no aimless punts, Negatve: The preventable goals conceded, especially the 2nd.
@onedavidlewy – Chalobah a massive positive and Deeney/Vydra looks like a promising partnership, Negative: Moving Chalobah to right centre half – and Yeates.
A wide range of views then, (why not give those that made them a follow on Twitter?) but we'd love to hear what yours were/are. Even better, how does Gianfranco Zola go about making the most of the positives and improving on the negatives? Let us know in the comments section below…
We recorded the new podcast at the game and you can hear it by clicking on one of the links in the top right of this page. It's got John Barnes on it!
Come on You Horns!
PS You can follow us on twitter too – we're @RookeryMike, @RookeryJon and @JasBailey.