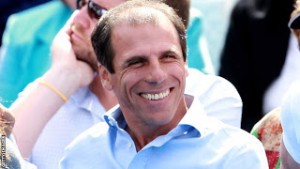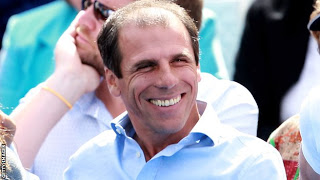 OI! Zola, what are you looking so happy about?
I'll be honest. I wouldn't have made six changes.
That said, Gianfranco Zola and I differ in many ways. There are a lot of things that he has done that I haven't. Among them, making 629 club appearances and picking up 31 International caps during a playing career that spanned over two decades. He's also managed in the Premier League. It's fair to say our footballing experiences have been slightly different. A glittering career and a (well deserved) reputation as one of the nicest men in football shouldn't mean he is exempt from criticism of course, but I must confess to being shocked at the level of abuse headed Zola's way in the wake of Watford's defeat at Bristol City.
High on the list of accusations was complacency. Of not taking bottom of the table Bristol City seriously, making changes because he thought we could just turn up and win. I find that a tough notion to entertain. In twenty seasons of football, Zola will have played against bottom of the table sides at least forty times. I find it impossible to believe that he and his teammates will have left the field after any of these encounters thinking "crikey, that was easy, we should have sent out the reserves…" That's just not how football is. With this in mind, why would Zola change his outlook now? After being involved in the professional game for 29 years, why on a wet Tuesday night In Bristol would he decide that bottom of the table teams are easy to beat?
The other main charge levelled against Zola, was one of playing a weakened team. A weakened team? A team weakened by the presence of Fitz Hall, one of our most consistent defenders, fans favourite Sean Murray, club captain John Eustace, Jonathan Hogg – who supporters had fretted about losing to Ipswich, Alex Geijo, complete with his record of almost a goal every other game in La Liga and cult hero Fernando Forestieri? I'm sure there are plenty of other clubs who would like to have those sorts of weaknesses.
Quite apart from anything else, if players aren't good enough to feature in the first team, what are they doing on the books? Weakened team my foot. I'm not having that.
What (I hope) people were actually upset by was the changed team. I wouldn't say I was particularly angered by the changes, but I'll repeat my first sentence – I wouldn't have made six of them. If it 'aint broke don't fix it is on the surface of things, a fairly sound motto, but I'll repeat my second point – Gianfranco Zola knows a lot more about football and the inner workings of this Watford team than I do.
The elephant(s) in the room are Deeney and Vydra. Two of the most feared strikers in the division left on the bench. Were they tired? Did Zola want to keep them fresh and hungry for the upcoming games? Were they carrying slight injuries? Perhaps. We'll never know. It was a brave move, whatever the reasoning behind it, and whilst it didn't pay dividends in this particular game, it may benefit them and the team as the season progresses. There's a long way to go and perhaps even hotshot strikers need a bit of looking after from time to time.
Two of our other stellar performers have been Chalobah and Cassetti, both also left on the bench, both for presumably the same reason. One is very young and playing his first season of competitive football, the other is older and is playing in what must be one of his last. Chalobah has been showing signs of needing a break, losing possession easily on occasion, whilst expecting Cassetti to play 46 games is totally unrealistic. Resting them at different times may have made more sense, but if it turns out we've sacrificed this game to keep those two at peak performance for the rest of the season, then it might have been worth it.
Battochio and Doyley were the others to drop out, both of whom will have been disappointed. It's unlikely however that they'll have been as disappointed as the 1,000 Hornets fans who had travelled to Ashton Gate and the countless others who were listening in, hoping that Watford could secure second place in the table. I count myself among that number. I hate losing, especially in what looks like a winnable game on the back of a terrific run of form.
The chances are that Zola probably made a few mistakes last night and I'm sure they won't be his last as Watford boss. I'd be amazed if he wasn't as frustrated as the rest of us with the result. As supporters our duty isn't to blindly praise or defend everything that happens, we have the right to be critical, to pass judgement, to offer our opinion. It's part of the fun, an intrinsic part of the football fan experience. If however you're going to be critical, try and think it through. Take your arguments or observations through to their natural conclusion. Weigh up both sides before condemning. I repeat. We all have the right to criticise, but there are very few occasions, especially at this moment in time where that criticism can't be constructive.
Come on You Horns.