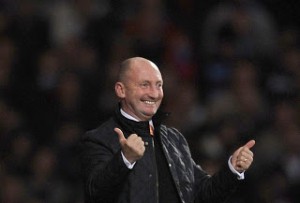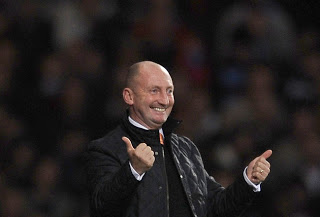 It's a thumbs down from us, Ian.
"…there comes a time, for making your mind up"
– Bucks Fizz, 1981
Back in 1981, English pop outfit Bucks Fizz were the toast of Europe (sort of). They swept all before them as they stormed to Eurovision Song Contest glory, singing of speeding up, slowing down, hitting the top and playing around, all set to a routine that culminated in Cheryl Baker's skirt being ripped off (It's true kids). Thirty years on and Watford Football Club are having their own little dalliance with Europe. Having been purchased by the Pozzo family, Vicarage Road is now home to a cosmopolitan mixture of talent, and the Hornets are starting to attract attention.
More accurately, they are starting to attract criticism.
The loan situation wasn't one that immediately sat well with Watford supporters. Truth be told, it's still too early to tell where it will leave us as a club. There remains uncertainty amongst Watford's own supporters, so it should come as no surprise that those outside Vicarage Road should be inquisitive and sceptical. It started off as expected, a few jibes from opposition supporters (more often than not the wonderfully imaginative "Udinese B" – oh go on, say it again, please…) but after an initial high profile outburst from West Ham fanatic Martin Samuel, all was relatively quiet.
Then something strange happened. Watford started winning. A lot. They became realistic promotion contenders. They became a threat. They became public enemy number one.
Faux bumpkin Ian Holloway became the catalyst for the latest swathe of anti-Watford feeling, complaining on live TV both before and after Watford's recent fixture with Crystal Palace about the situation at Vicarage Road. The deliberately contrary Adrian Durham of talkSPORT was only to quick to wade in with a few well placed digs in the following days, whilst opposition supporters warmed to their task, taking to the airwaves and the internet to speak out about the growing problem to football that Watford are posing. The strange thing is that whilst the majority are quick to voice their concern and opposition, most seem startlingly unsure of exactly what it is they are so unhappy about.
Well, as Bucks Fizz so eloquently said, there comes a time for making your mind up. That time is now.
"You're losing your identity…"
Identity. What is identity when it comes to Football Clubs? For me it's quite simple, quite stark. A Football Club is it's name. The badge. The shirt. The supporters and the community it serves. Owners, managers and players come and go, they are completely transient. Amongst them are heroes and villains, legends and losers, the unforgettable and the unforgivable. Each and every one of them plays a part in making the club what it is, but no one player, no team or squad provides an identity. That is something else entirely, something long lasting and indelible.
It's impossible to ignore that the class of 2012/13 has many more new faces than normal, with the future destination of many of them unsure and an unprecedented number on loan. As with any other season however, the team play at Vicarage Road, and they take to the field in the famous yellow shirt with the Hart upon the crest. Z cars is till played over the PA. They are active in the community and continue to welcome families like no other, whilst the supporters continue to love their golden boys. Any initial concerns at whether or not a team comprised of temporary signings would care about their adopted club have long since been banished, hard working, battling displays have been plentiful.
This is a club in the midst of transition, not an identity crisis.
"You're just a feeder club, you've had it when all the loanees go back…"
It's been established beyond all reasonable doubt that Watford have a lot of players on loan (thanks to all those who continually point this out, it's nice to know we're not going mad). It's therefore fair to assume that if all of those players were to leave Vicarage Road at the end of the season, the squad would be somewhat threadbare. Of course, imagining that this scenario could actually take place is another thing altogether. To suggest it's a possibility is to do two things. 1) To ignore what the Pozzo family have achieved in football, and 2) To assume that the Pozzo family are daft. I'll help you out here. The answer to 1) is: A lot. The answer to 2) is: They are not.
After a recent brush with a less than desirable owner, Watford supporters know that blind faith in the top brass is dangerous, so with the Pozzo regime still in its infancy, it would be prudent to reserve total judgement for the time being. This said, the omens are good. Success at Udinese and latterly at Granada illustrate that these guys know what they are doing. They are also in it for the long haul, they are happy playing the long game. They don't just achieve success (Champions League for Udinese, promotion to La Liga for extinction threatened Granada), they do it in a sustainable fashion.
Let's be clear, The Pozzo family want their teams to be successful because this helps them make money. Successful teams are usually filled with successful players, players that can be sold for a profit. It's a simple premise and there's no reason to suggest that they want to apply a different business model at Vicarage Road. They want to build a football club that can hold its own, whilst developing high quality players that can eventually be sold on for big money. Not much is certain in football, but it's pretty obvious they won't do this at Watford if they simply send all the players back each year. It's not how they operate, it's not going to happen.
"All those foreigners mean there is no hope for English talent…"
I like this one. It's easy. It's easy because it's not about opinion or conjecture, it's about fact. I'm going to give you a list of names. Jonathan Bond. Fitz Hall. Lloyd Doyley. Adam Thompson. Tommie Hoban. Nathaniel Chalobah. John Eustace. Mark Yeates. Jonathan Hogg. Craig Forsyth. Sean Murray. Connor Smith. Troy Deeney. Lee Hodson. I could go on, but I'm sure you've twigged by now.
That's right, they are all British/Irish players who have played for Watford this year, many of them youngsters at the very beginning of their careers with all but Chalobah owned outright by Watford. Indeed, seven of these names came through the Academy at Watford and it's been a rare occasion where a team in opposition has boasted more academy graduates in their match-day squad.
"All those foreigners mean there is no hope for youngsters…"
Have you learned nothing? See above.
"Why should Watford have all these loans from one club? It's ridiculous…"
It's hard to argue that a high number of loans from a single club isn't a bit strange. It's certainly not been seen in this country before, and as Ian Holloway was keen to point out again and again and again, clubs can only have a maximum of two players on loan from any one English club. So, yes, I'll admit, the number of loans from Udinese is, shall we say, unique. There's an important thing to note here though. It's perfectly legal. The rules are the same for Watford as they are for every other club. There's a difference between it being surprising or different to being cheating the system. It's a level playing field. You think the Pozzo way is going to ruin Watford? Fine, let us worry about that. We'll cope. You think the system gives Watford an advantage? Fine, you go and get yourself a legion of loans from abroad, too. There isn't anything stopping you.
Except there is.
You can't, can you? Not really.
And this is where we get to the crux of the matter. The complaints and allegations I've highlighted above are a bit halfhearted. The people making those statements don't really mean them, Ian Holloway and Adrian Durham included. What they are actually upset about, what they actually feel is a lot more straightforward. They don't think it's fair.
One of the most cringeworthy aspects of Holloway's pre and post match bleating was his mention of Alec (sic) Ferguson. "What must fantastic people like him at the top of our game think?" mused Holloway, presumably by this stage not realising that he was talking out loud. What does Sir Alex Ferguson think, Ian? He probably thinks that Watford are lucky to have resources afforded them by a clever, successful and wealthy owner, that others don't have. he probably remembers that Manchester United are one of the biggest clubs in the world on the back of being top of the league when the planet went Premier League crazy. A bit of luck, right place, right time. He probably thinks they are vaguely similar to Manchester City, a club taken over by one of the richest men in the world, the poor relations of Manchester turned into a global superpower overnight. He probably thinks it has some similarities to Abramovich taking over Chelsea, who went from Ken Bates to Billionaires in an instant. None of these clubs earned their access to additional resources, but they've got them. It isn't fair is it? Sir Alex doesn't care, Ian.
The moral outrage is a smokescreen. The game is in a precarious state, with clubs facing winding up orders and administration with alarming regularity. League clubs are saddling themselves with millions of pounds worth of debt, gambling on getting to the Premier League, where they will then be forced to gamble further still in an attempt to stay there. The football landscape is dominated by mountain after of debt, and where there is none, hugely wealthy owners such as Abramovich and Sheikh Mansour continue to build the least sustainable model of football club humanly possible. Compare this with the Pozzo way. Use an extensive scouting network to find young, promising players. Utilise these players, loan them to partner clubs with a view to getting the clubs promoted. Sell the players when they are successful, reinvest and start the process again. Too simple to work? Have a look at what Udinese and Granada have achieved and come back to me.
So, whilst the world stands by and is spoon fed the 'best league in the world', blindly queuing up to pat the English game on the back for attracting the best players in the world to the Premier League whilst the game teeters on the brink, we are to believe it is Watford and the Pozzo family who are the enemy of football. It is they who are subverting the natural order. Of exploiting loopholes, of threatening the fabric of our once great game. I'm pretty sure I know why football is failing, and it isn't because Watford have signed Almen Abdi, Marco Cassetti and Matej Vydra from Udinese.
The long and the short of it is that thanks to their owners, Watford have a chance of something special. I don't expect everyone to be delighted by this, as for some bizarre reason not everyone supports Watford, but if you really have a problem with it, I want and expect you to be certain why. It's time to make your mind up.
It's only fair.