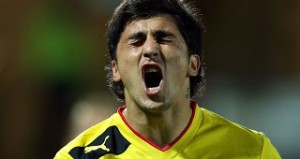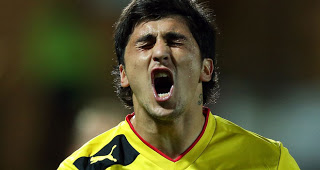 Fernando. A goalkeeper he is not.
I saw some stuff today.
I saw children physically shaking with excitement as they patiently stood in line to take a penalty against Fernando Forestieri. (Insert your on diving gag here). I saw Gianfranco Zola watching on, encouraging, celebrating with those who were successful, smiling with and high-fiving those that weren't. I saw autograph books being filled up, players taking the time to talk to both kids and parents alike. I saw children explaining to their Mums exactly who had signed their shirt where.
I saw happy faces everywhere.
Today saw the doors of the Legends Lounge at Vicarage Road flung open to any children who wanted to come along and say hello to their heroes. The response was incredible, a seemingly never ending stream of wide eyed children trooping into the venue, the excitement and enjoyment plain for all to see. Watford supporters are rightly proud of the emphasis the club has placed on encouraging young talent on the pitch, but this afternoon was a nice reminder of the importance of nurturing the next generation of supporters, too.
It was rewarding to be there on a number of levels. Firstly, seeing the youngsters faces as they interacted with members of the first team squad and the incredibly friendly and welcoming head coach (Take time to remember how lucky we are to have Gianfranco Zola at the helm, folks. He's a special chap) was an absolute joy. Their obvious excitement provided a pure, stripped back reminder of the joy that football can provide. Secondly, it was nice to know that the club bothers to put these things on. It shows they are thinking. It shows they care.
In a time when there is an awful lot wrong with football, this afternoon was a welcome reminder that there is a lot right with it, especially at Watford. Long may it continue.
***
When Jason, Jon and I weren't stood admiring Fernando Forestieri's goalie skills, we recorded a fantastic interview with a real goalkeeper – the mighty Manuel Almunia. You will be able to hear the full interview on the new podcast which will be out at the beginning of next week. To keep you going until then, we recorded a micro pod at the event today, and you can hear it below:
Come on You Horns!