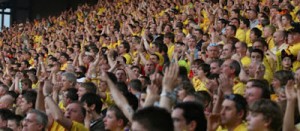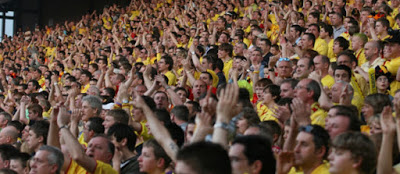 Enjoy the rest Hornets. We've got work to do…
It's called the International break, but for me it's nothing of the sort. It's just a break. A rest. If I'm brutally honest I'm not even sure when the International fixtures are due to take place. It's not that I don't care about England, I'll always want them to do well, but at the moment the International game simply isn't on my supporters radar. It's all about Watford.
Like you, I am totally consumed with events at WD18 and as we continue to see one of the most eventful periods in the clubs history unfold, I need to recharge my batteries ahead for the final push. I doubt I'm alone.
Our last two games saw defeats against Blackpool and Barnsley (Why do we have an aversion to beating sides beginning with B?!) and with injuries taking their toll, we have looked a shadow of the side that has motored up the Championship table. (Check this out for a clear illustration of the momentum we had built up)
I think we've been collectively jaded. Performances on the pitch have been tough going, and that has been reflected in some muted atmospheres at Vicarage Road. The pressure might have been getting to all of us. It's not surprising – we're not used to this, are we? For the last few years our sole aim has been to avoid relegation, and even at the start of this campaign, our first under the new owners, I think the most any of us reasonably hoped for was a comfortable mid-table finish. Consolidation. No drama.
No drama? You're kidding. This is Watford.
With eight games to go we find ourselves in third place, well and truly in the running for promotion. There's no hiding from it any more, no dressing it up or playing it down, no staying under the radar. We're contenders and as soon as you come under that heading, things change. Other teams and their supporters want to beat you, opposition players turn it on against you (The lovable Tom Ince clearly viewed his goal against us a career highlight), the media take more of an interest and perhaps most obviously of all – supporters' expectation levels are raised. After years of wondering where our next win would come from, it's incredible how quickly you can get used to seeing your team winning. I'll be honest – even I, the king of the pessimists, have gone into games expecting us to emerge victorious. It's unprecedented. Of course, the flipside comes when we don't win. The reaction to defeats now ranges from hysterical to glum resignation, from hopeful to horrified. We all react differently but we've all got something in common. We're desperate for Watford to do well.
That's why I'm grateful for this break. It gives us as supporters a chance to relax briefly, to evaluate and take stock of what we've achieved. We've come a long way and this season has already been a memorable one – we mustn't forget that. That's not to say we should rest on our laurels – absolutely not. Success is there for the taking, and this season could yet prove to be one of the most important in our history, but there's nothing wrong with being pleased with how far we've come in such a short space of time.
This lull in proceedings has also given the Football League a chance to reveal their judgment in the misconduct case against our former owner. The verdict is by now well known and Watford will not be the victim of a points deduction or fine, whilst the increasingly hapless looking Laurence Bassini has been banned from football for three years. Good news all round, and we can now look forward to seeing how everyone's favourite Stanmore businessman comes out of his dispute with the Russo brothers. I know who my money is on.
There is one final benefit to the break. Whilst our new squad has its fair share of internationals (a list that now includes Lloyd Doyley – good luck Lloyd and well done!) and those players will be in action during the pause in league action, it is an undeniable opportunity for the squad to rest, refocus and get ready for the final push. There have been niggling injuries and losses in form, and this gap in fixtures is the perfect opportunity to address both issues.
In summary, we should enjoy this little holiday, this rare opportunity to catch our breath, for by the time Good Friday rolls round, we and the players we cheer on should both be ready to give it their all for the run in. No excuses, no hiding. We need to be ready for action.
There is no point in denying that I'm as nervous as I am excited. It sure beats fretting about relegation, but whilst watching the last few games I've felt like I was being suffocated, barely daring to breathe such is the tension. This enforced Watford-free time however has shown me something though. It's time to man the heck up. No-one ever got anywhere by being tense and nervous. Football is no game for the faint hearted. We're near the top of the league, are more than capable of promotion and I should be enjoying it. We should be enjoying it. We've had a few poor results, fine, but who doesn't. They have been and gone. There is nothing we or anything else can do about it and we're still up there and fighting. If you were in any doubt as to the difference us as supporters can have, listen to the Manuel Almunia and Joel Ekstrand interviews on the two most recent podcasts. We can make a difference. They want us to enjoy it, they want us to be noisy, they want us to help them over the line. Eight games left. Let's do it. Let's do it together. Come on you Horns.