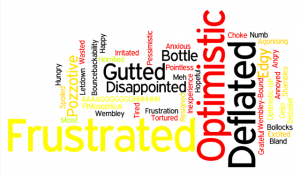 As the final whistle went at Millwall last night, I didn't know quite how to feel. Should I be pleased that we'd put in a better performance? Annoyed that Hull had lost and we'd done likewise? Should I be resigned to the play-offs? Should I be happy with the play-offs? It's hard to be too upset when we've spent the last few years fighting relegation. Isn't it? Isn't it?
Well, I wasn't sure so, I took to Twitter to ask fellow fans what they felt, in a bid to try and get my head round it. I asked Watford supporters to let me know their post-Millwall feelings in one word only and the diagram below shows the results. The bigger the word, the more often it was used.
If your feelings aren't represented in the diagram below, feel free to leave your one word feeling in the comments section…
Oh, and for heavens sake, COME ON YOU HORNS!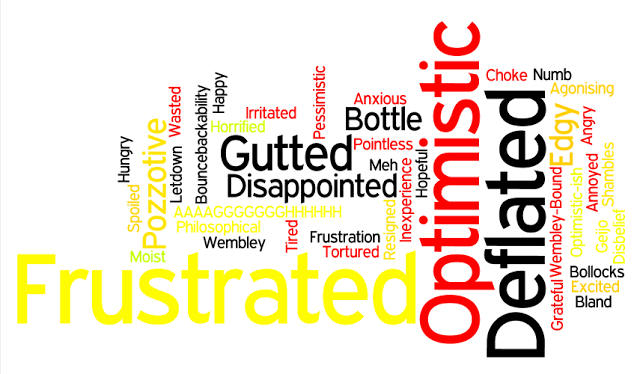 The one word feelings of Watford supporters after defeat at Millwall – 16/04/2013