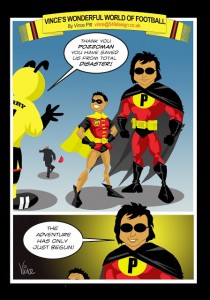 It's nerve-shredding, but isn't it nice? Instead of discussing the possibility of relegation, we've all got our eyes firmly fixed on the top of the table. As I write this, we've no idea what the immediate future holds, but it's a mark of a magnificent season that the very worst we will finish is third.
Third in what is widely recognised as one of the most competitive divisions in the world. I'll take that.
Especially when you take into account where we've come from. The recent revelations about our former owner (this is a happy time, I won't ruin everyone's day by mentioning his name) have left us in no doubt as to the state the club was in. So, no matter the outcome of the upcoming games, let's take time to take stock and evaluate.
With the help of this magnificent cartoon from Vince Pitt (you'll have seen plenty of his work in the match day programme) let's pause to remember that we've come a long way. And this is just the start…
Come on you Horns!