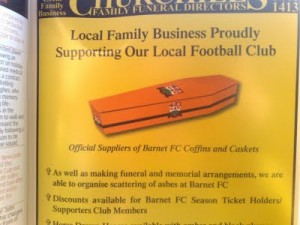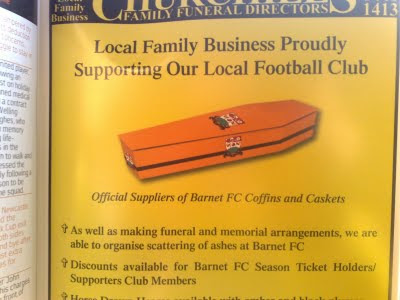 I've not been to a ground in the 1980's for a very long time. So when we turned up at Underhill for Barnet vs Watford in 1st Round of League Cup to find sheds it felt very retrospective. Great atmosphere in the Watford supporters. The ground and a the Barnet mascot gave them plenty of fuel for fans chant.
In what can only be described as cheap and poor bee outfit meant a chant of "You're a s*@t Harry Hornet". And as predicted by Jason in the car on the way over. "My Shed Is Bigger Than This" had to come up.
Malky named a strong side with only three changes from Saturday. Scott Loach, Jay DeMerit and Ross Jenkins were on international duties so Richard Lee was in goal, Lee Hodson made his first senior start at right-back (Mariappa moved to centre of defence) while John Eustace was back in yellow playing in centre midfield. When we first heard the team Jason and I both turned to each other with "that's a surprise" look followed by a confident nod. The first five minutes of the game certainly seemed like Watford would boss the game with lots of pressure, plenty of corners and a few close chances. This didn't last and the Watford were terrible in the first half – it was like watching a bunch of starangers playing together. No real focus or force to going forward, lots of hit and hope, Eustace and Severin were under each others feet and Richard Lee's kicks were coming to nothing. From all the chat and tweets I read at half time it seems everyone was feeling the same.
The second half didn't start any better and there was some real frustration growing in the Watford fans. There was even a run down of chants for our favourite players from the past, not great sign for the boys on the pitch. Then something happened. Something we would happen ever again. The Duke came on, and he played really well. His presence allowed for Tommy Smith to move back and out onto the right and with him being the front man it gave Danny Graham someone to play off. Over the first two games that Graham is going to be a poaching goal scorer, but a chaser and grinder as well. He certainly doesn't seem to be at his best as an out and out front man. So in the last 15-20 minutes of the second half Watford started to put some better moves together. All they needed was another 15 minutes and they would score. Luckily they got extra time and finally made the break through with Mike Williamson headed goal. Barnet didn't have the energy to put more pressure on us (well the odd close chances) and Scott Severin goal finished them off with a last minute goal through the keepers legs.
There was a lot of terrible football from Watford, but at the same time there are some moments to build on. More then anything they need to figure each other out and that means knowing who is going to be the core of this side. Who is staying and who is going? Tommy seemed to be a man who has things on his mind, that needs sorting.
Listen to our Mini-Podcast recorded from the car park of in High Barnet Tube station
Oh and the programme gave us a few laughs… firstly we felt jealous about the club merchandise Barnet fans can get.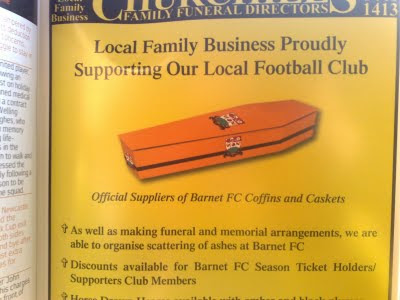 And then we learnt a little bit out the promiscuity of the Barnet fans and issues it's causing in the local community.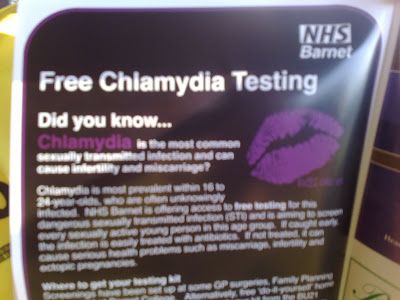 Roll on Sheffield on Saturday