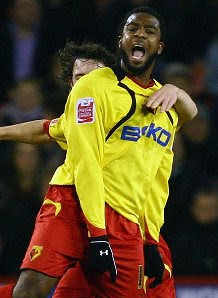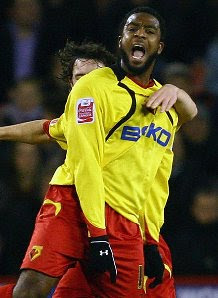 So we might have seen the end of Nathan Ellington's tenure as a Watford Footballer. And you know what's weird?… It makes me a little sad.
As football fans come I'm an optimist. Right up until the final whistle of a game there is a little bit inside me that thinks we can pull anything off. So when The Duke returned to us this summer I hoped he would become our top goal scorer or at least be our go to super-sub. He'd come on and score winning goal after winning goal, imagine all the hope and enjoyment he could have given hornets fans? Alas that only happened once away to Ipswich, and it was only an equalising goal.
Ellington's place in the History of Watford players will not only be comical for his lack of goals compared to his astronomical cost, but more so how he will be the "type of player" that Watford will never buy again. If/when Watford make it out of financial problems or back to the money fields of the Premier League, I hope that we don't have a policy of spending big money to help gain us points or survival. The one overriding strategy I hope we keep from Russo reign – for now and forever – is to spend within our means. Ellington was never that.
It's worth noting that his loan move to Skoda Xanthi is only a year and he is contract at Waford until summer 2011. So the optimist in me would love for him to return for the end of next season and score goal after goal after goal and either save us from relegation or give us that bit of spunk that gets us promoted. That's the optimist in me, and if he does then maybe, just maybe we might think of him as having earnt his £3.25 million.