I wasn't surprised when Watford Chairman Graham Taylor told last nights Fans Forum that our major shareholder Lord Ashcroft wanted to sell his 37.16% stake when it becomes a "Sellable Investment". He's not been a present or vocal owner, and it took the extreme situation of the last AGM for him make any moves. He's a rich man with a investment portfolio. Watford were only ever an investment for him. He isn't a massive Watford fan or a fan of football.
So if it's the job of the current board to make Watford FC a "Sellable Investment" then I'll a very happy Watford fan. It means we are a club with a happy bank manager, we're living within our financial means and performing in the Top 10 in the Championship and challenging for the Play-Offs.
But what then?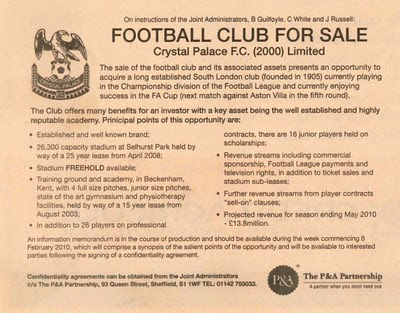 Well there will have to be a fairly hefty bit of matchmaking to be done by Graham Taylor and Chief Exec Julian Winter to find the right kind of investor for our community based football club. They'll have to put together a sort of lonely hearts ad for Watford. I don't know if you saw this recently, but Crystal Palaces Administrators placed this advert in the Financial Times which gives us an idea of what they are working on to make us that little bit more attractive to all those single football investors out there.
The Lord Ashcroft and Russo Brothers Ownership situation isn't the best for us to make quick progress. However, the Board and Executive we have are doing all they can to grow this club and we now have a base to grow from. We are not without a few decent challenges both on and off the field, but we will soon be a stable football club.