Today is one of those days were Watford fans all become fashion experts. The club today released pictures of the new Watford Home kit that is made and sponsored by Burrda. It has hints of the 1997 CTX shirt that had a big red band down the left handside. And it also has elements of the 2005 Loans.co.uk shirt with the red and black strips on the left hand shoulder.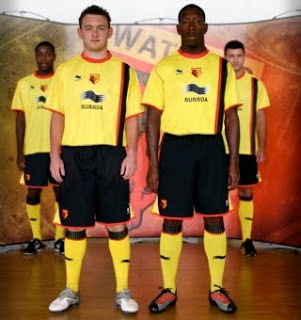 A few weeks back on the From The Rookery End Facebook page we asked followers to show us what they would like the shirt to look like. A lots of different and special designs. And one by Gareth Rodgers was very close to the final design. Thanks to everyone who gave up their time to create a design.
Opinions on the new shirt are of course very mixed. I wasn't sure about it when I saw it on Saturday at the Elton John gig. However, it has grown on me. The simplicity of the design has gone from a little boring to now being quite impacting. I'm not saying it's a classic shirt, but then I don't think we've had a classic shirt since about 1989.
The football shirts you love are always the ones you had as a kid. So somewhere out there in Hornets Nation it will become a classic kit for an 8 year old. They'll open it for a birthday present and their eyes will light up because it's the same shirt that their childhood heroes wear.
It retails at £37.99 for adults and £27.99 for children and you can buy it now at www.thehornetsshop.co.uk. Season ticket holders can get a £10 discount if they order before Saturday 12th June.