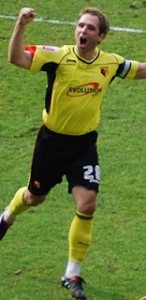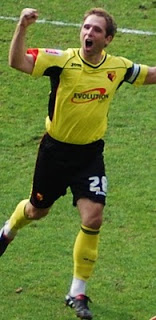 ADDITION – WEDNESDAY 2 JUNE – 14:45
So after a few deleted articles about John Eustace having actually signed for Leeds, this afternoon the OFFICIAL Watford FC website has announced that
John Eustace has re-signed for Watford
. FANTASTIC!!
I could have deleted my original post because it is wrong, but I won't. John staying we now have a senior player who can be the corner stone of Watford next season and the From The Rookery End love for John – which you can hear it on our debut podcast – can continue to be shown for at least two more years.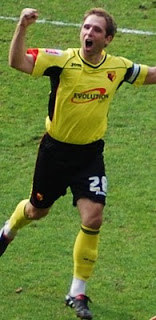 ORIGINAL POST – WEDNESDAY 2 JUNE – 10:00:
In the "From The Rookery End, End of Season Awards" – which you can hear right now on our first podcast – we gave away "The Who's The Daddy Award". It's quite a gushing section of the podcast where myself, Jason and Mike (particularly Mike) say how much we love our winner – John Eustace. So you won't be surprised to know that my heart sank this morning when I woke up to the news that Eustace has signed for Leeds [THIS LINK HAS BEEN DELETED]. We'd heard rumours of this move over the last few days so I was preparing myself, but it was still gutting.
I don't blame John in the slightest for making this move. He is 30 years old, heading into the latter end of his football career and this next contract would probably be his last on big-ish money. I know that footballers earn more money then most of us would ever dream. Leeds were offering more money so a couple more years of earning well will set him and his family up for the rest of his and their lives. Then there is all the faith the club have put in him this year and why they had offered him a new contract. When he returned from his loan spell at Derby last summer Malky put him at the heart of the midfield, he stepped up and we all reaped the rewards. I'm sure there is personal disappointment from Malky and John about this move, but Eustace knows that managers can change and when they do players can become out of favour. He was sent out on loan by Brendan Rodgers and must of thought his Watford career was over. Also seeing your club brush with administration must put lots of doubt in any player mind as to true value of the piece of paper they have signed. Every Watford fan will understand his choice.
The knot that I, and I suspect many Watford fans, have got in their stomach today is one of unknown. We have no clear idea what the starting XI will be next season. We are lacking senior players especially after releasing Jay Demerit, Jon Harley and Will Hoskins yesterday and we have a huge number of players age 20 and under in our first team. As fans we don't know who's on the horizon of being signed, and the club can't share that sort information because of delegate negotiations. Also Watford don't sign players we all know well and see on telly every week. That part doesn't worry because I feel we have a good scouting system and they are the type of people who know a lot about the players who Watford typically sign. I suspect there are Watford fans out there who watch The Football League show past the Watford highlights and have some ideas on who we could sign – I'm not one of them and most aren't. So even if we don't know, Malky and the scouts know who their targets are. What I am a little worried about is who will fill the senior role that has obviously been planed for Eustace. Of course work is currently underway for the new players, but we could be on the back foot when it comes to filling that type of role. I guess we can only wait and see – EEeeeeK
My lasting memory of John will be the below photo. It was taken after the Reading game. Firstly, you've got to love a beaming smile like his, but the thing about this photo is how long it took to take. Jason took it using my iPhone. Now iPhones are a very easy to use, but it took Jason at least five attempts to press the correct button. John cheerfully wait for me to continually sort Jason out before he took this photo and stuck his finger in the top left hand corner!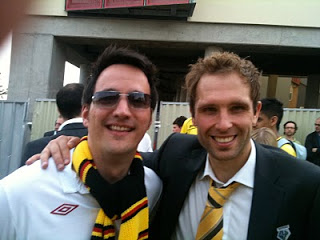 We shook hands and I thanked him for this season. And I'm sure there are other members of Hornets Nation who would like to thank him and wish John good luck in the future. We will give him a good old cheer and round of applause when he returns with Leeds in the new season.
– RookeryJon