Right you lot. I'm going to be honest with you here. Bare my soul. You ready?
OK. So we all now know Luis Suarez. He is the Uruguay striker who by handling the ball on the line in the last minute of their Quarter Final clash with Ghana has become the embodiment evil. The man whose dastardly act dashed not just the hopes of a Nation, but those of an entire Continent. His hand didn't prevent just a goal, but the continued development of African football.
Apparently.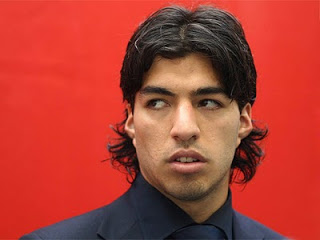 Now, in common with most football fans I deplore cheating. Diving, faking injury, trying to get opposition players booked, crafty fouls and unseen shirt pulls. I hate it. I hate it all and am not shy in saying so. I'd be all in favour of six month bans for players caught diving. No half measures from me when it comes to the "dark arts".
It may therefore surprise you to learn that instead of joining in the increasingly embarrassing condemnation from anyone outside Montevideo, I'm here to stick up for Mr Suarez and his impromptu goalkeeping display.
You see, what poor old Luis did wasn't calculated. It wasn't a cold, measured decision, considered and undertaken having weighed up the pros and cons of his actions. It was a reaction. An instantaneous reaction. And you know what? I'd have undoubtedly done the same.
We've all been there. Your girlfriend is driving the car and is approaching a queue of traffic at a roundabout. The last car in the line is getting closer whilst she is clearly more focussed on Cheryl Cole's forgetfulness when it comes to malaria tablets. You can't help it – as you hurtle towards disaster, your foot leaps to an imaginary brake in the passenger footwell. An involuntary reaction.
Alan Green begins commentating on the radio. You turn the radio off. An involuntary reaction. Your boss is away for the afternoon. You surf the Internet and plan a long lunch. An involuntary reaction. You learn Stuart Atwell is set to officiate your football match. Your head sinks into your hands. An involuntary reaction. Some of our actions occur too quickly and too naturally for us to do anything about. As Star Trek fans would no doubt delight in telling us – resistance is futile.
I have struggled to imagine the situation that would involve me taking part in a World Cup Quarter Final, but despite this I'm pretty sure that if I found myself in that position, I'd have reacted the same. My reason for being on the goal line would already be established and clear in my mind. To stop the opposition scoring. Mission received and understood. The next thing I know, the ball is heading towards the back of the net. I realise I can't stop it with my head and this is where the involuntary reaction kicks in. Before I know it, I've swatted the ball to safety, I've been red carded and Ghana have a kick to progress.
If I were to criticise Luis Suarez, it would be for his abysmal haircut (or lack of it) and his ill advised celebrations in the tunnel area after Asamoah Gyan missed the subsequent penalty. I'm sure he regrets it too, especially as his fist pumping reaction was replayed ad nauseum across the Worlds TV networks. Still, at least it should make it clear to him how daft his hair looks.
Tonight Suarez is banned and will be joining us in watching the first Semi Final of the 2010 World Cup. Should Holland progress, many will deem it justice served and will dismiss Uruguay as South American cheats who eventually got what they deserved. Should they progress, whoever they play in the Final, the spotlight will be firmly back on Luis Suarez – in my opinion for all the wrong reasons.
Unlike the enemy of African football Luis Suarez, I will never have the chance to represent my Country at the World Cup. We do have one thing in common though. We both have involuntary reactions.
Having discussed these thoughts with friends over the weekend, it was suggested that in instances such as this, when a certain goal is denied by an illegal act, a penalty goal could be awarded. I'm inclined to agree. Whilst a penalty kick affords a fabulous opportunity to score, as we saw last week, it isn't a goal until it hits the back of the net…What, dear reader, do you think?