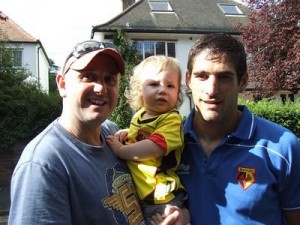 It was the first football of the new season for me and Mike as we made the trip to St Albans for a good 2-0 win for the Hornets. Have a listen to our thoughts after the game on some of the stand out performances from our young players.
After recording the micro-podcast Mike bumped into Danny Graham, and as you can see from the photo he has a larger then normal nose.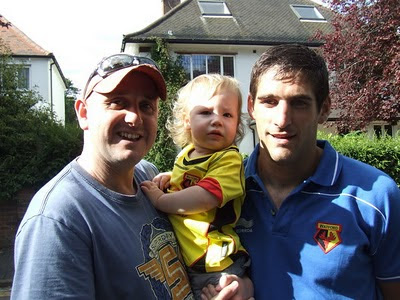 It is broken and Mike said that Danny wanted to continue but staff and ref wouldn't allow him. They were quick to substitute him. Not worth the risk at this point of pre-season. He was still in high spirits after the game and will know more about the injury in 5 days when the swelling has down. Will probably make him a doubt for the Barnet and Northampton pre-season games.
As I drove home down St Albans high street I saw Liam Henderson on his mobile out side Nandos. He must of been having a celebratory Peri-Peri Chicken – the meal of kings!!
Oh and the lovely lady in the middle is Mike and Danny is Mike's 18 month old daughter Florence. The game was at her very first football match. She loved it and is very much looking forward to meeting Harry Hornet on her first visit to Vicarage Road!
– Jon