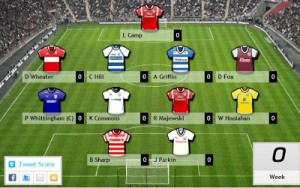 Some of you might know that we've set up a little Fantasy Football League. You can get involved by going to fantasy.football-league.co.uk, sign up, pick your team, then click on "Private Leagues" and use the LEAGUE PIN: 6194 to join our league.
I was a University student when I first discovered Fantasy Football in the pages of the Daily Telegraph. So in a house of 7 soccer savvy students within earshot of Man City's famous Kippax, we sent our teams off via Royal Mail. I don't think I won, but I certainly didn't come last! It was simple then. Points for clean sheets, assists and goals. Minus points for cards and conceding. These days it's picking your captain, rotating your subs, playing your wild card, a transfer a week… I'd got fed up with having a 5-4 classic on Match of the Day ruined by seeing my star striker come off the bench with the goals already spoken for. So that was it. No more Fantasy Football for me. Until Jon decided I was best placed to pick the From The Rookery End's Championship team. I'd never done a 2nd tier one before, despite my team spending most of those intervening years there. So here it is, my Championship FF team for 2010/11…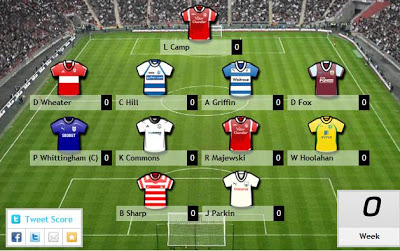 So you're probably wondering why I've picked the players I have. And more importantly, why there are no Vicarage Road based players. Plus I thought I should be honest with you. I did get some advice from Scott Loach and Lloyd Doyley when we interviewed them the other day!
GOALKEEPER:
Lee Camp – Forest – Loach's pick
DEFENCE:
David Wheater – Middlesbrough – Quality young centre back. Will be back in the Premier Leauge soon, probably with his current team!
Danny Fox – Burnley – defender with a knack of scoring spectacular goals
Andy Griffin – Reading – experienced defender in a much improved team from last year. Apart from when he was made to look like an old man against us at the end of the season!
Clint Hill – QPR – He'll be a Warnock favourite in a season where we'll see QPR finally start to put their money where their mouth is.
MIDFIELD:
Wes Hoolahan – Norwich – on Doyley's recommendation.
Peter Whittingham (Captain) – Cardiff – Best player in the Championship from last season that isn't playing in the Premier League in 10/11.
Kris Commons – Derby – A player who's always had potential to make more of himself. Injured towards the business end of last season & I think this is why he's a little bit cheaper than I'd expect.
Radoslav Majewski – Forest – he's always looked a good player when I've seen snippets on the tv & grabbed a few goals last year.
STRIKERS:
Billy Sharp – Doncaster – Will score goals no matter who he plays for, especially in this good footballing team.
Jon Parkin – Preston – Uncanny knack of finding the back of the net despite being a fat boy!
So why no Watford players? Well I'm too scared to pick any 'Orns in case I jinx 'em!!
We'd love you to take part just go to fantasy.football-league.co.uk and our private LEAGUE PIN: 6194. It's free to sign up!
– Jason
Remember you can get these straight to your inbox by entering your email address in the "Subscribe by Email" box in the top right of this page. Or if you're really technical you can use this RSS code