Watford made the third signing of the summer on Friday – Troy Deeney from Walsall. He's signed a two year contract (3rd is optional) and the deal could be worth up to £650,000. The great news is he's a striker. If you've listened to Podcast 2 you would have heard Mike, Jason and I all say that we were a little light up front. He made an appearance during the Norwich game, looked lively, but we will have to wait to see a few more appearances before we have a chat about him on Podcast 3 due out the first week of September.
With every new signing I always think about the song we'll sing for them. So Troy "Deeney" needs a song. A few have suggested "We've got Troy-Dee-ney-o" but that would be stealing Lloyds song and that would be little disrespectful. The first song that sprang to mind was "Denis" by Blondie. So on Friday I set our Facebook Page a little challenge…
Come up with a verse and chorus for Troy to the classic Blondie song.
And we got some GREAT responses. Firstly Philip Fisher…


Then Will Rowson came in with not only a verse, but the intro as well and made reference to his job before Walsall picked him up.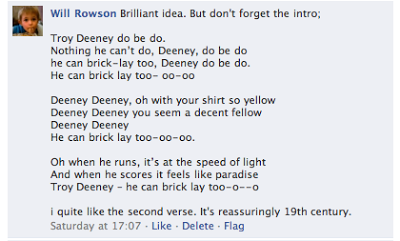 We're not the guys in the Rookery End that get songs going – if you are then give us a shout – but we will put as many of your songs into a song for Podcast 3… oh and don't worry about me singing them. I'll get a girl to do their best Debbie Harry impression.
If another tune catches your ear that suits Troy then send those in as well. And on that note, much props must be given to Steven Wybar entry. It isn't to the tune of Denis or any other pop song. His song is very punchy and could easily catch on…

– Jon
Remember you can get these posts straight to your inbox by entering your email address in the "Subscribe by Email" box in the top right of this page. Or if you're really technical you can use this RSS code