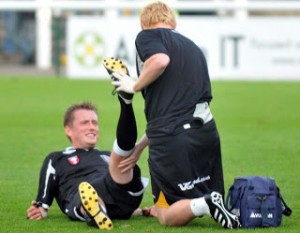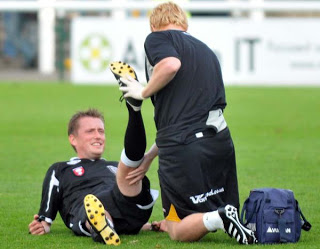 During the 2nd half of Watford's 2-2 draw with Coventry we saw a fantastic sight. The Ref, Mr Trevor Kettle from Berkshire, hobbling off injured. Due to his injuries being quite bad he need to go off for treatment. However if he did there would be no one to act as 4th Official and run the touchline. If you were at the game you would have heard an very special announcement go out. It went something like this:
"If you are a qualified referee can you please make yourself known to a steward"

They basically needed someone who not only knew the rules of the game, but also had decent physical movement. Hop-a-long Kettle wasn't keeping Malky and Aidy in their technical areas because at one point they must of been a good 5 yards on to the pitch barking instructions. Later in the evening, whilst watching the highlights of Blackburn's 1-0 win over Everton on Match of The Day, I heard a clip of another announcement over a football stadium PA system. The Ewood Park announcer was asking a fan to call his wife as she had gone into labour. I love those little moments you get at football matches. They can really add a little bit of spice to the matchday experience and in the case of the Blackburn vs Everton game the labour announcement gave fans something to talk about on the way home – the game wasn't exactly inspiring.
So after your fantastic response to our Hornets Headlines for our second podcast I was wondering.
What announcement would you love to hear across the PA system at Vicarage Road?

It could literally be anything. Maybe it's something you've always wanted to say to the loud/annoying man who sits near you, maybe it's something about what's going on the pitch, maybe it's something personal to you. It can be anything you've ever wanted broadcast to 15,000 people! The best ones will be voiced by The From The Rookery End PA Announcer on our next podcast.
– Jon