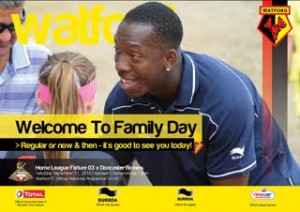 This post was originally published in the Watford vs Doncaster Rovers Matchday programme on 11th September 2010 (Page 62).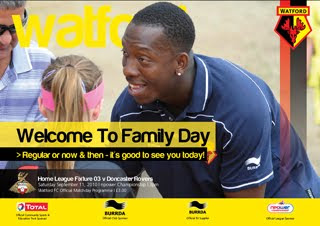 Watford have had the lot already this season. Is it any wonder that Mike Parkin, season ticket holder and co-presenter of From The Rookery End Podcast, doesn't know if he's coming or going?
Can it really be September already? The kids are back at school, the (non bottled) summer tans are starting to fade and England are already attempting to qualify for the next International tournament at which we can embarrass ourselves. Of course slightly more cheerily, the nPower Championship is also well underway and our beloved Hornets have made a reasonable start.
Widely tipped for the drop by pundits and supporters alike, Watford made a blistering start to the season with a fine away win at Norwich and followed it up with solid draws against Coventry and Hull. Since then, the inevitable happened and we eventually lost our unbeaten record – losing at home to Notts County and Leeds United in the space of a week.
Ordinarily, two home defeats in the space of five days would be cause for concern and utter misery. At the very least I'd have bashed out a slightly miserable blog post or two and sulked at home, steadfastly refusing to watch The Football League Show or read the sports pages in the papers. So far though, my post match emotions have been different. It could be because I am older, wiser and more mature. Those who know me will quickly confirm that this isn't the case. So what is going on?
Well. Being a football fan isn't easy. Trying to explain the experience is even harder, but here goes. Sometimes, draws feel like defeats. Sometimes draws feel like wins. Sometimes defeats feel like…well, defeats always feel like defeats, but sometimes they are easier to stomach. With me so far?
Let's take the Coventry game as an example. A sunny Saturday at Vicarage Road and it was the first home game of the season. Former Manager Aidy Boothroyd was afforded a warm welcome back off the pitch, whilst his team were given a footballing lesson on it. For 89 minutes or so anyway.
After racing in to a 2-0 lead courtesy of Will Buckley and an early contender for goal of the season in the form of a John Eustace bicycle kick, Watford played some great stuff in the August sunshine. We were superior in every part of the pitch and it was looking like being a rather splendid day all round.
Then it all went a bit wrong.
When things go badly for your team, fans can always, without exception, find a way to blame the officials, and this occasion is no exception. Mid-way through the second half, the referee got injured and had to be substituted. It soon transpired that there was no substitute for the substitute and a PA announcement had to be put out across Vicarage Road asking for a qualified official to take up the fourth official duties. Understandably this unusual request was met with much laughter in the crowd. The laughter didn't last. The delay in sorting out the situation, combined with numerous other stoppages meant a long period of injury time. How long you ask? Well, the exact amount of time needed for Coventry to score two late goals and snatch a draw. A draw. A point. An amazing goal. Our unbeaten record preserved. In short, a lot to smile about, but in actuality I felt very little pleasure walking away from the ground.
Compare that feeling to the one I felt after the defeat to Notts County. Despite being out of the cup at the hands of a lower league club, the performance Watford had put in was, in the main, excellent. Chances galore, glimpses of fantastic stuff from some of our new signings and a senior debut for another of our Academy graduates. I walked away buoyant, positive and confident in our team. The same sort of feeling I get when we win. But we'd lost. See? I told you it was confusing…
That's the joy of being a fan though. The ups and downs, the excitement and disappointment. The consistently contrasting emotions. It's why we love football, why we keep coming back. Win lose or draw, we have no idea how we're going to feel when that full time whistle blows. Long may it continue!
Come on You Horns!
Mike