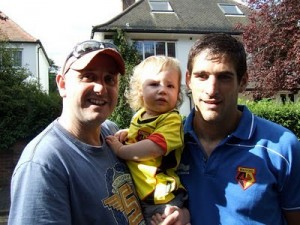 This post was originally published in the Watford vs Middlesbrough Matchday programme on 25th September 2010 (Page 68).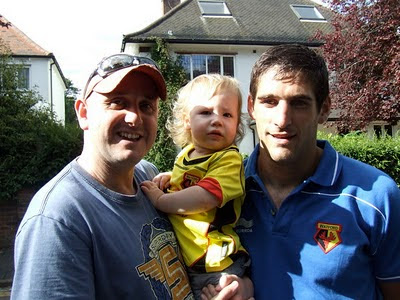 Don't worry, From the Rookery End's Mike Parkin isn't applying to be on a game show. He is however struggling with a conundrum…
I'm a sort of grown up now. I say sort of because I still listen to my iPod too loud, laugh at silly jokes and wear a baseball cap, baggy jeans and t-shirts with writing all over them. Despite looking like a slightly overweight American teenager, I promise you I'm a responsible adult. I have to be. I'm a Dad.
As well as being a Father I am a huge Watford fan. At 19 months old, my daughter is too. This is largely down to her fascination with Harry the Hornet, but her introduction to life as a Watford fan has been enhanced by some great club initiatives.
The pre-season open day in Bushey was an absolute joy. Players happily mingled with supporters both young and old for the entire afternoon, signing whatever was thrust in front of them and posing for photographs. My nephew remains ecstatic that he shook Malky's hand and although she couldn't quite say so, I could tell my daughter was delighted to have her picture taken with Aidy Mariappa. On a less happy note it was at this time that it became clear my girlfriend finds Mr Mariappa rather pleasing on the eye, but moving on…
Fast forward a couple of months to the recent home game with Doncaster Rovers and Vicarage Road is pretty much full. Given the nature of the opposition (no disrespect Donny fans!) you could be forgiven for being surprised at the big crowd. Until that is, you realise it is Family Day.
Watford have held these events for some time now, dramatically reducing ticket prices to give those with families and young children a chance to come along without spending a small fortune. I have always supported these days, the benefits are clear, but as a relatively new Dad, they now have extra meaning.
Needless to say I took advantage of the offer and it was with some excitement that I was able to take my daughter to her first competitive Watford game (her official debut was at the St Albans friendly). Upon arrival at the ground the stewards couldn't have been better, opening a gate to allow us in with the buggy, then folding it up and stowing it away for the duration of the game. Great customer service that went a long way to helping us relax and enjoy the day, safe in the knowledge that despite arriving with what felt like everything but the kitchen sink, we were welcome.
The day continued to be a hugely enjoyable one and when I saw Marvin Sordell put Watford ahead whilst surrounded by my little family, there can have been few happier men on earth. As we all know, Watford can do fairytale endings, but on this occasion chose not to. A late Doncaster equaliser spoiled the party and it got me thinking. When on earth was the last time we won on a family day?
I scanned my failing memory. The last family day was at home to Peterborough who were enduring a woeful season without an away win to their name. Needless to say, before a packed and excited Vicarage Road, they took all three points. In fact, previous to the encounter with Doncaster, the last time I could recall us getting anything out of a family day fixture was a tepid 1-1 draw with York City in 1997.
The conclusion was clear. Watford never win on family day. This poses a problem. A dilemma. Attracting the next generation of supporters is vital. Catering for families and reducing ticket prices to make a trip to The Vic more accessible is important, but winning games is important too and we've established we never do that on these occasions. So in true Family Fortunes style, if we asked 100 Watford fans what is more important, what would come out on top? Winning over the next generation of fans or winning the game? What do we want, points or principles?
I think it's simple. In the past couple of months my daughter has, thanks to the clubs family and community events, met the Watford squad and seen them play in comfortable and welcoming surroundings. She enjoyed it. We enjoyed it. We'll be back as a family, hopefully for many years to come. That feels like a big win to me.
Come On You Horns!