This post was originally published in the Watford vs Swansea Matchday programme on 28th September 2010.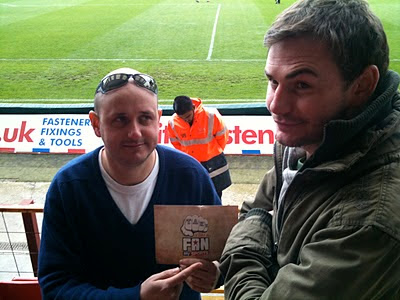 It's every Watford fans dream. A chance to play football on the same pitch as your heroes in front of a packed stadium. Sometimes though, that dream can quickly turn into a nightmare.

Some of you may be aware of the Sky Sports quiz show 'Take it like a fan'. Hosted by former Soccer AM favourite John 'Fenners' Fendley and Sky Sports News' Charlotte Jackson, fans are able to win cash by answering questions on their club.
Fenners and Charlotte descended on Vicarage Road for the Middlesbrough game and I had managed to speak to the team in advance to confirm my participation. Conscious that being part of a TV show often necessitates a lot of hanging around, I was loathe to go on my own. I therefore called my (hungover) brother Andy and, against his better judgement, persuaded him to come with me.
At the ground we met with the production crew and were immediately told that we would both definitely be taking part. I would be a contestant in the 'home and away' section, in which I would be asked questions on Watford if I chose 'home' and on Middlesborough if I chose 'away'. Straightforward enough. Andy on the other hand was faced with a far more interesting and exciting proposition…
Andy would be taking part in the section of the show entitled 'People on the pitch' in which he and a fellow Watford fan would be asked a single question. The contestant with the correct answer wins. Usually the prize is £100 – this time was different. On this occasion the winning Watford fan would take a penalty against Watford keeper Jonathan Bond in front of the packed Rookery End at half time, with a successful spot kick meaning a prize of £500. No pressure then…
The segment took place in the middle of the Vicarage Road pitch, with the ground rapidly filling up. There was a definite sense of anticipation as I looked on from pitchside and hoped. The poser set by Fenners was as follows: 'How many goals did Watford score in the 1999/00 season?'. Andy's effort was 37 and at only two goals away from the correct total of 35 it was good enough to win. He'd done it. Delight quickly gave way to nerves as the realisation dawned that my brother would be fulfilling a lifelong ambition. He was going to take a penalty at Vicarage Road in front of 12,000 people.
As I rejoined Andy and we took our seats, he wore a haunted expression. He was with me in body, but his mind was clearly battling with what he should do with his spot kick. Bottom left? Top right? Blast it or place it? It was clearly going to be a long 45 minutes.
As the game got underway, the professionals did their best to put Andy's mind at rest, racing into a well deserved 3-0 lead. As the rest of us cheered, sang and wondered if we could be on for another Millwall style goal-fest, Andy quietly battled with his nerves.
Before we knew it the first half was history and Andy, surrounded by a camera crew was placing the ball on the spot. His moment had arrived. Richard Short introduced him to the crowd, leaving them in no doubt as to what was going on. This was Andy's one shot at glory. A chance to fulfill a lifelong ambition and to scoop 500 quid in the process. I felt sick with nerves as 12,000 pairs of eyes focussed on my brother. I could only imagine how he was feeling…
In the blink of an eye it was over. A confident run up and a clean connection. The goalkeeper went the wrong way and could only look on as the ball sailed past him… And into the crowd.
He'd missed it. I have to admit, my biggest fear had been that he'd slip over, so I quickly gave silent thanks that he remained upright, but then there was nowhere else to hide. The chance of a lifetime had ended up being the miss of a lifetime. As I write this, he still wears a slightly vacant look. Silently replaying the moment in his mind. At least he can say he's done it though. Well done Andy, I'm proud of you.
As for me, well the show airs on Sky Sports this Friday night. Tune in and see if I fared any better.
COME ON YOU HORNS!
Rookery Mike