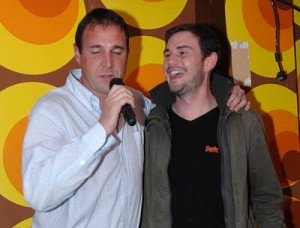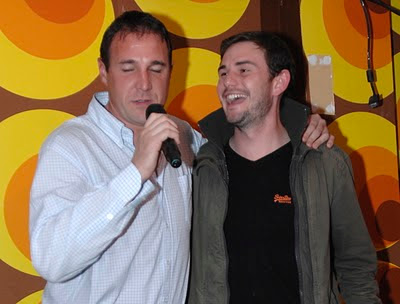 I can't remember the last time I went out in Hemel Hempstead. I have a nasty feeling it involved a bottle of gin and a night at the infamous 'Undertaker Disco' at the civic centre as an unruly teenager, but (probably due to the gin) I can't be sure. So, it was with vague memories and no little curiosity that I parked the car in the town centre and made my way to the 'Function Rooms' for the Watford FC 'At your place' event last week.
Despite remaining badly traumatised by his penalty miss at half time in the Middlesbrough game I had persuaded my brother to come along and as we walked to the venue we admitted to each other we didn't really know what to expect.
The night was billed as an informal evening, a chance to get to know Malky Mackay, Julian Winter and a few of the players through a questions and answers session in a relaxed, 'off the record' atmosphere. We hoped we'd learn a few bits and pieces about the club that we didn't know previously, but above all I think we just wanted to find out what the guys who represent our
club are really like. We weren't to be disappointed.
For those that don't know it, the Function Rooms is effectively a bar or small nightclub, and the event took place in the ground floor room, which by the time we arrived was buzzing to the sound of about 150 Watford fans enjoying a couple of pints and a chat. Shortly after 7:30pm Malky Mackay, Julian Winter, Danny Graham and Lee Hodson took to the stage, each receiving a
well deserved and warm welcome.
The next couple of hours flew by. Questions were answered with a refreshing mix of honesty and humour and not a single issue was side stepped or swerved by any of the four guests. The assembled supporters clearly felt comfortable enough to ask searching questions, some directly questioning Malky's tactics and substitutions, with others choosing to quiz Julian Winter on
subjects as diverse as the state of the pitch, the Red Lion, Saracens and the search for a new owner. He didn't get off lightly!
Detailing the nuts and bolts of what was discussed isn't the purpose of this article, but I feel it would be remiss of me to mention a couple of nuggets of information that I learned in Hemel that evening.
Malky Mackay (who incidentally, was happy to confirm that he does indeed enjoy a beer and a pie) has used the loan system to impressive effect, with Cleverley and Lansbury making a memorable impact last year andJordon Mutch and Andrew Taylor doing likewise this. The Manager took this
opportunity to dispel some common myths about these deals, most notably about the cost.
Malky explained that in nearly all instances, a loan fee is payable to the parent club. He went on to explain that more often than not, not only are the wages the responsibility of the club on which the player goes on loan to but often, the wages paid are higher than those he receives at his parent club. This is a direct result of the competition for top quality loan signings and provides an indication as to the difficulties that Malky faces when trying to bring in new
faces – even on loan.
Those fortunate enough to be present were also left in no doubt that an element of luck comes into sealing deals. Malky concluded the enlightening discussion about loans by talking a bit about the circumstances of the Tom Cleverley transfer. Suffice to say that had Nigel Pearson, at that time manager at Leicester City, not argued with Sir Alex Ferguson about the financial aspect of a proposed loan deal for Cleverley, he would have spent the season at the Walkers Stadium and not Vicarage Road. I think this indicates that Malky is prepared to work at deals and to make sure that they are done correctly, building relationships with potentially important allies such as Sir Alex at Manchester United and Arsene Wenger at Arsenal. Pearson played the tough guy and lost, our man Malky played the long game – and won.
Mackay also spoke refreshingly honestly about referees, and revealed that on six separate occasions last season, the assessor had called him after a game to apologise for mistakes made by the officials in charge. He also made it clear that it is unlikely we'll see the substitute referee that took over in our home game with Coventry at this level again…
Whilst the manager and CEO Julian Winter understandably fielded a high percentage of questions, Danny Graham and Lee Hodson played their part too. Both players spoke eloquently in telling a captivated audience their views on diving, their targets for the season and their feelings on that pitch invader at Millwall! They also provided some really interesting insight into what happens when a new player joins up with the squad and how an away match day unfolds.
The event was a rare opportunity to hear first hand some genuinely interesting stories from inside Vicarage Road, there were lots of laughs too, with Malky delighting the crowd with tales of conversations with Elton John, whose contact with Malky has increased markedly since his concert at Vicarage Road during the summer. The most impressive and exciting aspect of the
evening for me however, was the realisation of what a good, solid bunch of people we have involved at our club. At no stage in the evening did Julian, Malky, Lee or Danny show any signs of not wanting to be there – in fact the exact opposite was true. Each of them was engaging and enthusiastic, and most importantly of all, happy and proud to be involved with Watford.
As fans, we should be grateful that the club hold these events. It isn't every football club that would host a night at which you can have a beer and a chat with players and the management team. Especially not for free. We should be equally grateful that the same players and staff are clearly in it for the right reasons. They understand why we love Watford, because to me and the others that were there that night, it's clear that they love Watford too.
Another person who was back in love with all things Watford by the end of the night was Andy, my brother. After his half time attempt at a penalty the previous Saturday, he had taken some persuading to come along to a Watford event. Still haunted by the sound of the Rookery serenading him with a chorus of 'You're not very good', he was a broken man. Despite being dogged by flashbacks of his spot kick disappearing over the bar, he dusted himself down and joined me in Hemel. By the end of the night, he was glad he did.
My brother doesn't mind a flutter, so when he learned of a raffle, he was straight in. He disappeared to the bar with a glint in his eye and returned clutching a strip of tickets. Naturally we thought nothing more of it. Until of course at the conclusion of he evening, Julian Winter drew the winning ticket.
Andy's winning ticket.
After being introduced to the crowd as 'the man that missed the penalty' Andy stepped up to choose his prize. He chose an absolute belter. Some time in November, he will be spending a morning at the training ground with the squad, followed by lunch with Malky Mackay. If Andy can persuade Malky to let him take a penalty during training, he may just be able to redeem himself and finally banish those Vicarage Road ghosts. Maybe.
Anyway, this wasn't a one off event, there is another planned in Garston on 1 December 2010, so if you want to the chance to hear first hand from some of the most important people at Watford, or even just a crack at the raffle, get in touch with the club and book your place. You won't regret it!
Come on you Horns!
Mike