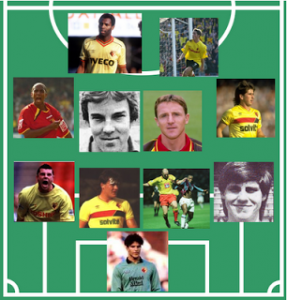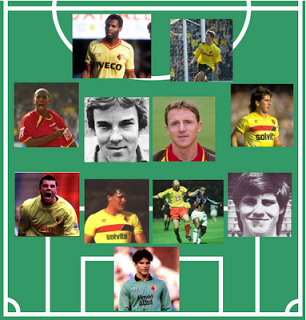 So my From The Rookery End co-hosts tasked me with coming up with my Watford Home Grown XI. Sounds like a task, so I'll need to set myself some rules.
1 – I'm only going to pick players I've seen play.
2 – Er, well that's it actually.
Now how am I going to pick my eleven? I've been a Hornets fan since 1980, so I've got a fair selection of players to pick from. I need some help. I have my laptop, the internet is a wonderful thing. However, it is prone to hold a few untruths. Thankfully I have my copy of Watford Illustrated Who's Who by Trefor Jones. What that man doesn't know about WFC… and so forth.
In Goal
Now I'm quite a logical man and the logical place to start is in goal. We've bought, borrowed & developed our own custodians over my 30 years of Watford worship and three names immediately spring to mind – David James, Richard Lee & Scott Loach. Well it's no contest. Nice guys never win anything, so there's no place in the team for Richard. Scott, despite his international efforts, still has something to prove. So for me it's DJ. Won the youth cup with WFC and after just a couple of seasons found himself off to Anfield, before the days when top flight clubs raced each other in snapping up all the young talent, only to use them as bench warmers.
Case for the defence?
At right back, Nigel Gibbs. Lloyd Doyley has cult status at the Vic, but he's got a long way to go to match Gibbs whose professional, and Watford FC, playing career lasted more than eighteen (18!) years. My left back is Paul Robinson. I loved Robbo. And so did many others. He's one of those players that fans take to their heart. Tough tackler. Hard worker. West Brom stole him at £375k. I watched him captain his school team to a share of the English Schools U16 Cup at the final in 1995. Less than 18 months later he was making his debut against L*t*n.
That's the full backs, what about the centre backs? Nothing gets the pride flowing more than seeing your captain lift a trophy at Wembley Stadium and only one man has done that whilst wearing Watford yellow. Step forward Robert Page. Captain of the 1999 play-off heroes. He was quite an unassuming captain. Quietly going about his business, letting the likes of Mooney & Johnno grab the attention. I remember a woman approaching me in the pub after the play off final victory parade, asking me to help her start a song for Robert, because no-one else would join in with her! "You'll never turn the Page!" A chance to really indulge in some eighties nostalgia with my other centre back. Steve Terry. Ask any Watford fan over the age of 30 what they remember about Steve and you will probably get the same answer every time – the headband. Surely that's not enough to get in my all time home grown XI? Time to check the book….. he scored twenty goals from centre back. That's more than the rest of my defence put together; and he played less games than the other three. OK, that'll work!
The Men in the Middle… and wings
I'm looking for a traditional 442, so two wingers and two central midfielders. The wingers are a no brainer. The most expensive player in Watford history and a star from the Eighties who has recently been fighting a much more important battle than he did against any top flight left back. Ashley Young on the left and Nigel Callaghan on the right. Ashley went from young hot prospect to £9m+ Premier League star in the blink of an eye. Nigel's career was very different and spent much of his Watford career marauding down the right wing, whilst fans & media lauded a guy called Barnes down the left.
So with flair and skill on the flanks I need some grafters in the middle. And I can't think of any better choices than Kenny Jackett & Gary Porter. Kenny was a one club man, following in his father's footsteps playing for the Golden Boys. He was unfortunately forced to retire at the age of 28, but still racked up over 400 appearances for the club. Gary Porter is another long serving hero from the Graham Taylor era, but his greatest moment was probably in the mid nineties when his hat-trick helped the Hornets turn a 3-0 deficit at home to Bolton in to a 4-3 victory.
The Frontline
That leaves the strikers. I did consider Gifton Noel-Williams, who showed much promise. But I don't think he ever looked as good after being crocked by Paul Butler in 1999. So I've gone for two men who who loved the club so much they came back! Tommy Smith is my first striker. He broke into the team during Graham Taylor's second spell as manager and really established himself during the first Premier League season. That's not bad for starters. But then when he came back he bagged a couple of Player of the Season awards to leave his mark in the memory of Watford fans forever. And the other striker? Who else? He's played more games for Watford than anyone else. He's scored more goals for Watford than anyone else. He was the first to leave the Vic for a million pounds. He's even scored a hat trick for England. He is of course the legend that is Luther Blissett.
So that's my home grown XI. You may agree with some, all or none of my selections – I don't really mind – but I hope it stirs some memories and gets you thinking of your own XI.
Who would in your All-Time Home Grown XI be??
— Jason