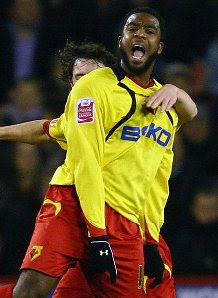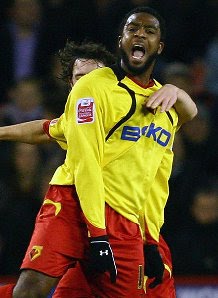 I saw two interesting conversations on twitter tonight (Monday 20th December) with out on loan striker Nathan "The Duke" Ellington (@Nathanellington) and a couple of Watford fans @hornetdan1979 and @Matt_Furniss. I thought you'd like to see them.
It started after a tweet from The Duke himself:
Nathanellington
I don't talk about moves until it's done. Some Teams r interested and bristol rovers are one of them. That's all I can say! Thanks.
*****
hornetdan1979 @Nathanellington
Question: Do you feel embarrassed at what you have given Watford considering the transfer fee and wages paid for you?
Nathanellington @hornetdan1979
Not embarrassed just disappointed with myself. That's the only club where I didn't have good stats. First year on bench and playing pure long ball didn't help.
hornetdan1979 @Nathanellington
Cheers for good honest answer. Appreciate style of play didn't suit you, frustrating for fans that huge outlay didn't work.
Nathanellington @hornetdan1979
Under Malky was great to be honest, but damage was already done. financial troubles meant I can't play even if they wanted
********
Matt_Furniss @Nathanellington
So are you saying that, even if you can't find a new club, you are unlikely to play for financial/contractual reasons?
Nathanellington @Matt_Furniss
Yes I think that's the case.
Matt_Furniss @Nathanellington
That's a shame. I think you could definitely offer something with our current style of play. Good luck etc though.
Nathanellington @Matt_Furniss
I'll move to another club I have no doubt I'll be flying again, I feel great and can't wait to go somewhere and play regularly again.
********
It's a complex business football. We'd all love for it to just be about what happens on the pitch, but it's not. Wouldn't it be lovely if The Duke could come back and have a killer 6 months helping us get back into the Premier League? Of course, but from his tweets tonight it looks like his time in a Watford shirt is over and the business side of football is getting in the way of a dream finish to what must be the most troublesome transfers in Watford history.
— Jon