For a little while now, Watford fans have felt that their club was slowly returning to the community centric, caring, family focussed roots that served it so well during the rise to prominence in the 1980s.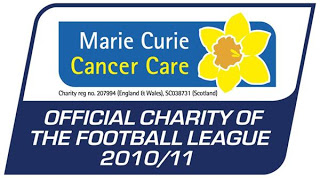 Now it's not just Hornets fans that know Watford is a special club again. Thanks to a unique and special gesture, the footballing world know it too.
On Saturday 8 January, Watford entertain Hartlepool in the FA Cup at Vicarage Road and in a fabulous show of generosity, the club have agreed to donate their profits from ticket sales on the day to Marie Curie – the chosen charity of the Football League for 2011.
With ticket prices reduced to £10 for the fixture, seats are reported to be selling fast, with the club optimistic that they will be able to make a sizable donation to the cancer charity. As a fan, this makes me immeasurably proud.
Once again, my club is seeking to make a difference and in doing so is itself being different – this is the first time the proceeds from a competitive fixture in England have been donated to charity.
In addition to the gate receipts, Watford's players have agreed that if they slip up against Hartlepool, to waive their fee. In an age where players are willing to engineer scenarios and stories solely designed to boost their already astronomic earnings, this show of support from the Hornets team is a welcome and refreshing addition to the story.
It is perhaps cause for regret that with all the money washing around the English game, no club has made a similar effort (Aston Villa's reverse sponsorship deal with Acorns perhaps the exception) and the fact that Watford's finances remain precarious makes the scheme all the more admirable.
If you can't support the fundraising effort by attending the game, you can donate online. Well done all at Watford, for once again recognising that it isn't just what a club does on the pitch that is important.