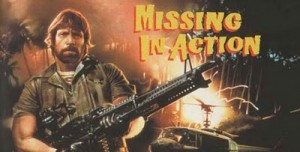 This post was originally published on Tuesday 15th February 2011 in the Watford vs Preston Matchday programme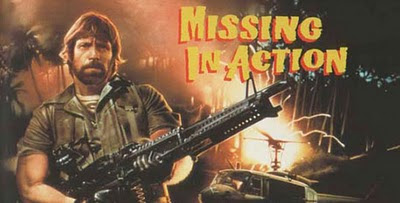 Apart from having the same title, this photo has no relevance to this post.
It's just an excuse for us to have a photo of Chuck Norris on the blog
From the Rookery End podcast presenter Mike Parkin hates missing Watford games, but read on to learn why being away from The Vic isn't always a bad thing…
You may not have admitted it to yourself yet, but we aren't like normal folk. We'll do what they do – we'll go on holidays, visit friends and relatives, go to the cinema and spend an unfeasible amount of time in the pub, but as football fans, for us, there is always a caveat. Before people like us commit to anything we will always utter the supporter's stock sentence. "Sounds good, but I'll have to check if Watford are playing…"
I'm sure that you, like me, will have turned down plenty of enticing offers of fun and frolics to attend instead of a football match. I'm equally certain that the better or more glamorous the event you turned down, the less entertaining or rewarding the football was. It doesn't deter us though. Football remains paramount. Sometimes though it's unavoidable. Sometimes the unthinkable comes to pass. Sometimes, you have to miss the football.
As a fresh faced youngster it would have taken nothing short of a Nuclear explosion at Vicarage Road to keep me away, and even then I'd have probably gone to double check the game wasn't on. Now, with family commitments and other inconveniences such as friends' weddings or landmark birthdays, I have accepted that occasionally my Rookery end seat will go empty.
The most regular reason for my absence isn't really cause for complaint. I'm lucky enough to get away on the occasional holiday and on reflection, many of my favourite Watford memories have come whilst on foreign shores. For example, if you think it is nail-biting sitting at the ground, watching whilst Watford try to cling on to a slim advantage, you should try waiting for the BBC sport web page to load whilst in a backstreet internet cafe in Thailand. I've never felt so tense. Admittedly it may have been the constant attempts of young urchins to pickpocket me, or the nagging doubt that my foray onto the world wide web was going to cost me all my holiday spending money, but the sense of elation that I felt when I finally learned that Watford had triumphed away at Portman Road will live with me forever.
In September 2007 I was in Egypt. What felt like a million miles away at Vicarage Road, Watford were in action against Southampton. Luckily for me the game was on TV so I was able to watch it. Unluckily for me, the only place we could find showing it was a rather quiet and reserved restaurant. The sound wasn't on and the patrons were far more interested in their dinner than they were in Doyley. I therefore had to watch the drama unfold in relative silence – not really my style as those who have encountered me at a game will testify. This became increasingly hard as the game reached it's conclusion. 1-2 down with 10 minutes to go Darius Henderson equalised before bundling home an injury time winner. Back home in Blighty the Rookery end went berserk. I almost followed suit before remembering my sedate surroundings. I managed to keep quiet, but I simply HAD to celebrate. So, I did what any bloke in my situation would do. I removed my flip-flop and in a state of unbridled joy, flung it across the restaurant. As confused and slightly concerned Egyptian faces turned towards me, I realised my 'celebration' may have been slightly ill judged. We didn't hang around.
Some years before, I was in Crete with a group of friends. It was the summer of 2001 and Watford had appointed Luca Vialli. One of the exciting off-shoots of this doomed appointment was a pre-season friendly away at Inter Milan. This already surreal fixture turned truly bonkers when my brother arrived at our holiday apartment with a huge grin on his face. He'd found a bar showing the game. Two hours later I was sat in the sunshine with beer and my best mates, watching Watford play one of the biggest clubs in the world. Being away when Watford play. What's not to like?
However, as Dorothy said, 'There's no place like home' and I'm as glad and excited as ever to be back here at the Vic for this game against Preston.
Come on You Horns!