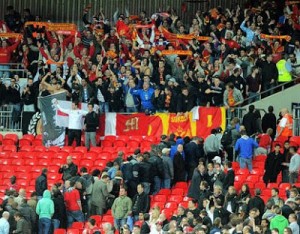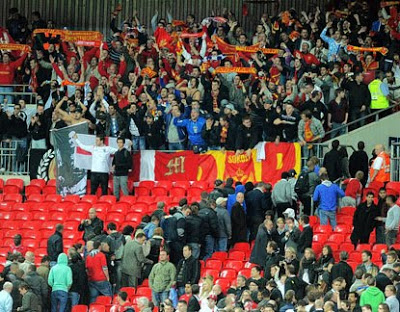 If you've watched Match of the Day recently, you'll have seen that the cameramen and producers have a new favourite shot. As soon as a home team concede a goal or two, the camera will cut to members of the crowd leaving their seats, whilst the commentator confidently tell us that 'Plenty of people have seen enough, they are streaming towards the exits'. In fact, they are probably either heading to the toilet or for an overpriced pie or watered down beer, but since several Newcastle fans were seen (understandably) departing St James' Park before their team came back from 0-4 down to grab an unlikely draw with Arsenal, the 'early leavers' have been brought firmly into the spotlight.
It's not a new phenomenon. The Emirates and Old Trafford begin visibly emptying at the 75 minute mark, supporters of such successful teams clearly being more concerned with being stuck in traffic than they are with getting value for their expensive match ticket. Wembley is always far from full come the 90 minute mark and the the Vicarage Road end exits, clearly visible form my position in the Rookery, are always open early to allow deflated away supporters to leave the scene of their teams demise quickly.
You can't really blame those supporters who leave a bit early with their team in a hopeless position, but of course it only takes a second to score a goal, so it's a gamble to miss any part of a game no matter how hopeless the perceived situation. How many Watford fans will have missed the Gary Porter inspired comeback against Bolton in 1993, having given up and gone home with the Hornets 0-3 down after an hour, only to miss a hat-trick from Porter and a Ken Charlery winner? How many Liverpool fans will have to live with the haunting knowledge that they missed their team win the Champions League in 2005 after giving up and leaving the stadium with the reds on the wrong end of a 0-3 score-line? More than will admit it I'm sure.
Whilst we're on the subject of admissions, I suppose I better come clean. I've left a game early. Two actually. Alright, alright, I know us proper fans are supposed to stay until the end, but sometimes, very occasionally it's all too much to cope with. One such occasion was a home fixture with our old friends Crystal Palace. It was last season and both the Hornets and the Eagles were embroiled in a nerve shredding relegation scrap. Watford were above Palace in the table and a win would have all but secured our safety for another year. I was confident we'd get a decent performance, even if we didn't get the win we craved. In the event, the performance got the result it deserved and I was well on my way home by the final whistle blew on a 3-0 defeat.
Whilst I left that particular debacle through choice, my first early departure was thrust upon me and it has bothered me ever since. It was an away game with Reading at their old Elm Park ground and my brother and I had cadged a lift with a school friend in his rather exotic convertible car. A trip to an away match with the roof down. What fun. Unfortunately the fun ended pretty quickly after the game began and Watford found themselves 4-0 down. Our driver for the day had seen enough and decided we should leave. As passengers, we had no choice but to meekly surrender and as we trudged away from the ground we heard a weary, slightly hollow cheer. Watford had scored. My brother and I looked at each other, each as cross as the other at missing a Watford goal. Missing this one has proved increasingly infuriating as whilst it was a mere consolation, it was also the first professional goal for a young Kevin Phillips.
More recently I was sorely tempted to leave the home fixture with PNE prematurely. At 0-2 down it was a miserable night and a miserable performance. I stuck with it though and eventually was rewarded with a spirited comeback and a well earned point. I learned a lesson at that game. Stick with it, and usually you'll be rewarded. With the team enduring a torrid run of form, that's exactly what we need to do. Stick together and stay strong to the end. This team will come good – we need to make sure we're here when they do.
I'm still glad I left that Palace game though…
Come on You Horns!
This post was originally published on Saturday 5th March 2011 in the Watford vs Millwall Matchday programme. A game that Mike watched to the bitter end.