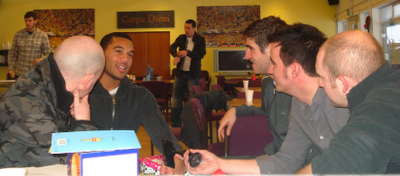 With Jason drinking beer in Prague, Jon and Mike are joined by Mike's brother Andy to chat about Watford FC's season now we've passed Malky's magical 52 points.
You'll hear our interview with both Danny Graham and Adrian Marriappa. And we've caught up with Watford Ladies captain Cori Daniels to find out about the Lady Hornets.
On top of that there's a special song for Lee Hodson and we've got details on Danny Graham's latest non-football venture! We also meet Curtis and Geoff, two Hornet fans from Denver, and find out about how someone from the other side of the world become Watford fans.
And of cause there is lots of chat about Watford's results in March and what might happen in the last 8 games of the season. And some of you might remember Andy from this moment at half time at the Middlesbrough home game this season!