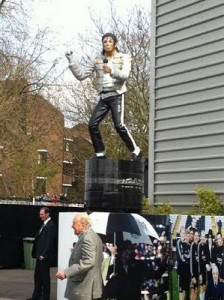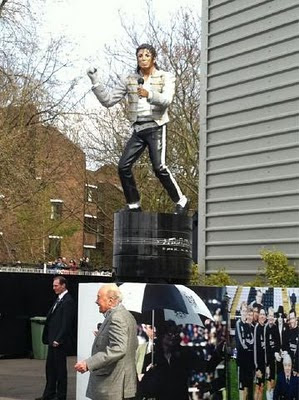 I had a bit of a chuckle to myself when I heard that Fulham were to have a statue of Michael Jackson put up outside Craven Cottage. Al Fayad had originally got it made to put outside Harrods. Unfortunatly he sold that corner shop and the new owners said they didn't want it anywhere near their shop. So AF found a tenuous link that MJ went to a Fulham game once so putting it was fine to put it out of the ground.
As you can see in above picture it is terrible and it becomes quite clear why the new Harrods owners didn't want it. Firstly, I didn't expect it to be in colour. I thought it would be made of brass. And I thought he might be in an iconic pose from one of his groundbreaking music videos – he's not.
Now, I am a big fan of statues. The Sir Bobby Moore statue at Wembley is brilliant and it is something that people want to have their photo taken with when they visit the stadium. I think we need a similar statue to Sir Bobby at Vicarage Road… but of who and what will they be doing?
So post us your ideas below – who do you want and what pose are they in?
Jon