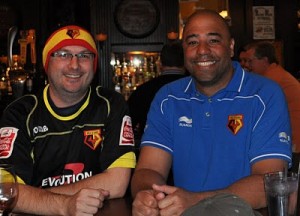 Mike is delighted to discover family members he never knew he had…
Another Richard Johnson screamer, Aidy Boothroyd beating up Fitz Hall, Pierre Issa being dumped off his stretcher, Harry Hornet marrying Harriet, Lloyd Doyley scoring. A lot of the best things about watching football happen when you are, well, watching football. Not all of them though…
One of the most enjoyable things about being involved with the podcast (From the Rookery End, Episode 10 out now!) is that we get to hear from fellow Watford fans from all over the world. Co-presenter and self confessed geek Jon has a little gadget that tells us the Country in which downloads are taking place and we have been delighted and amazed to learn we have reached listeners in Norway, Sweden, Brazil and Australia to name but a few. We also have two lovely listeners in Denver, Colorado. How do we know they are lovely? Because we've met them.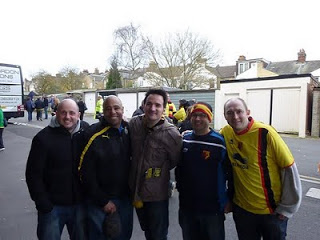 Curtis and Geoff got in touch with us after hearing the podcast and told us that they were heading over to England for their annual fix of football. Geoff (originally from New Zealand) was doubly determined to get his fill, taking in five games in five days, including Watford's wins against Sheffield United and Ipswich. We managed to catch up with the chaps after the Hornets had swept aside 9 man Sheffield United (sandwiched between Geoff's visits to Leatherhead and Stoke City!).
We recorded a segment for the podcast, but it quickly became apparent that the occasion warranted more than a ten minute chat outside a windswept Vicarage Road. And so it was that 30 minutes later we found ourselves getting stuck into a few beers in the legendary West Herts Sports & Social Club – the original home of the Hornets. Manchester United were playing Arsenal on the big screen, but there was only one topic of discussion. Watford.
It transpired that all of us had seen some sport in our time; test cricket, the NFL, international rugby and football, basketball, World Cups and Olympics – all played in some of the world's most impressive stadia, but it was clear that nothing inspired or excited any of us like match day at Vicarage Road. Each of us taking great pleasure recounting our favourite game or goal, whilst furiously debating our chances for the rest of the season.
It may have been the continual flow of beer making me sentimental, but as we swapped stories and memories it occurred to me that what we were experiencing was exactly what football is about. The nauseating Sepp Blatter loves to talk about the 'football family', by which I suspect he means people that pay lots of money to be involved with the sport. Well, whilst Sepp was busy counting his Swiss francs, we were enjoying the real meaning of the phrase. We were chatting with people we'd only known for hours, but these were people with shared passions and dreams. They felt like old friends already. They felt like part of our family.
Of course it wasn't just football that had brought us together, it was Watford. How rewarding and magical to realise that it isn't just those that were born locally or live in the environs that recognise supporting Watford is the correct course of action. A New Zealander and an American had the option to support any club in the world, but they tried the Watford way and were hooked. Despite being thousands of miles away, these guys feel every tackle, foul, goal, win, loss and draw as keenly as if they were sat in the Rookery with us today.
There are others of course. Thousands of us spread across the globe, unbeknown to each other but inextricably linked through our support of the mighty Hornets. As you read this, people in places like the USA, Australia, Brazil and even Scotland will be going to extraordinary lengths to make sure they follow our progress against Hull this afternoon. You know the real beauty of it? One day you'll probably meet one of them, and your personal football family will have another member. It's good to be a Hornet.
Come on You Horns!
This post was first published in the matchday programme of Watford vs Hull City on Saturday 9th April 2011.