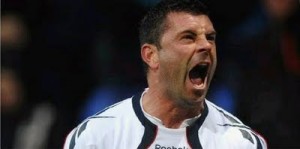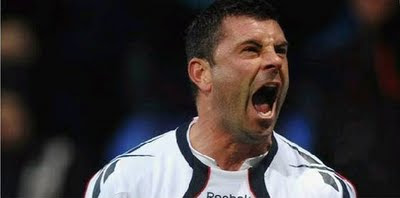 Unfortunately for my family, I'm addicted to sport. If the chance arises to go to a sporting fixture of pretty much any type, I'll be there. Spare speedway tickets? Go on then. Your friend can't make it to the ice hockey with you at the weekend? Sure thing, count me in. A day at the darts? Yes please. You get the picture. With this in mind, it was with some excitement that I took delivery of two tickets to Sunday's FA Cup Semi Final between Bolton Wanderers and Stoke City, courtesy of a competition run by the excellent website Back Page Football.
My brother Andy is equally indiscriminate about the sporting events he attends (he went to Stevenage V Aldershot on Saturday!), so he was only too happy to join me on a slightly random jaunt to Wembley stadium. It quickly became apparent that we weren't going to be the only neutrals there that day – a family of four were on the same train as us, proudly clutching Club Wembley passes. As a relatively new father, I have quickly adopted the famous Dad trait of talking to absolutely anyone and quickly engaged the Wembley bound family in a brief chat. I asked the kids who they thought they would win. 'Dunno' came the response, 'Who's playing?'
Andy and I don't profess to be world authorities on football, but we did at least know which teams were taking part, and we were in agreement that the game would be a close and hard fought affair. 'I fancy penalties' Andy had said with a slightly macabre grin. Luckily he didn't bet on it…
I'm a nightmare at Watford matches. Like you, I want them to win every game. Desperately. Let's just say that when I'm engaged in watching Watford, I can get a little…intense. It was therefore nice to be able to look forward to a game of football that meant nothing to me, but meant the world to the other 80,000 odd people in attendance (The Club Wembley family the notable exceptions!)). I was looking forward to watching the game with a bit of detached impartiality. I was looking forward to being able to soak up the pattern of play without worrying about how long was left and who was going to win. I was looking forward to sampling the atmosphere without feeling the need to help generate it.
We were to be Bolton Wanderers fans for the day. Firstly, the (excellent) tickets were in the Bolton section, and secondly, the legendary and slightly unhinged ex-Hornet Paul Robinson would be starting at left back for the Trotters. Despite having nailed our proverbial colours to the mast, it quickly became very apparent that we were at someone else's party. As we waded through the discarded beer cans en route to the ground, the excitement was palpable. 'Lucky sods' Andy muttered as we passed group after group of bouncing, chanting fans. 'I wish we were here with Watford'.
Inside the ground, Wembley looked magnificent in the April sun. Whatever the rights and wrongs are of playing Semi finals at Wembley, as the 4pm kick off approached I can guarantee that every person in that stadium was glad to be there and excited to be a part of it. Whilst Bolton had failed to sell their allocation (instantly banishing any lingering doubts that I was denying a Bolton fan a ticket), there wasn't a seat to be found in the Stoke end of the ground and by crikey they didn't half make a din. I'm sure I'm not alone in having mixed feelings towards Stoke fans, but give them their due, they generated an extraordinary atmosphere.
The teams strode out and in a bid to feel part of it, my brother and I struck up a chant of 'Robbo! Robbo!' I waved at him too. He didn't wave back. 'Good lad' I thought; 'he's focussed'. The game got underway and there was no denying it, I was excited. FA Cup Semi Finals are big games in their own right, but even more so when the two participants are so infrequently involved in games of such magnitude. This was definitely going to be good.
And of course, if you support Stoke City, it was good. It was better than good. It was extraordinary. After half an hour the game was well and truly over, in truth, it was probably done and dusted after 17 minutes when Robert Huth was the unlikely man behind a 20 yard strike into the bottom right hand corner. As Stoke shot after Stoke shot resulted in Stoke goal after Stoke goal, the day took on a surreal feeling. As the red and white end of the ground partied, things quickly unravelled around us in amongst the Wanderers fans. Fights broke out amongst fellow supporters, the initial excitement quickly punctured by the reality that was unfolding in front of them – clearly too much to take for a small minority. Some fans had seen enough after half an hour and began their long journey home early. Others hurled abuse at their hapless team. The majority sat in stunned, disbelieving silence.
All the while Andy and I were trying to convince each other there was a way back for our adopted side. 'If they can nick one before half time, they'll be back in it' we suggested. We were desperate for the tight, competitive game we had forecast to come to fruition. Having seen these sorts of games before though, we both knew that there was only ever going to be one winner.
If I'm honest, disappointment was the only emotion I could muster. I wanted to feel sorry for the Bolton fans, and to a degree I did, but really I just felt sorry for myself. The game we'd seen wasn't the one that we'd expected – I felt like hitting rewind and start the game again. Once more from the top Bolton, this time with feeling… I'll come clean to experiencing a flicker of sympathy when the disconsolate fan next to me broke his 2nd half silence. Two words were all he could muster. 'I'm ashamed'.
It was an interesting experience and if offered the same ticket tomorrow, I'd take it again, but it brought something into sharp focus for me. A realisation that has provided me with some empathy for those around me who struggle to understand my lifelong obsession with watching Watford home and away. Neutrals want to be entertained. Supporters just want to win.
The mood on the packed trains away from Wembley mirrored that of inside the stadium. Stoke fans jubilant, Bolton supporters tired, drained and numb. It was on the train that I finally made some sort of personal connection with the days events. A few seats in front of me sat a Stoke fan. He was alone, and in his sixties. He said nothing, contendedly staring out of the window, no doubt gleefully recounting each of Stoke's five goals. Then his phone rang. He took the call and listened. It was obviously a friend or family member calling to offer their congratulations and as he recounted his version of events, there was a quiver in his voice. He was so excited, so proud, so happy about what he had just seen that he was close to tears. The hairs on the back of my neck stood up as I recognised the feelings he was experiencing. The feelings that only sport can provide. The feelings that only those with an emotional and physical investment in their team will ever enjoy. The feelings of a true football fan.
This man was happy and that was all it took. I was happy too.