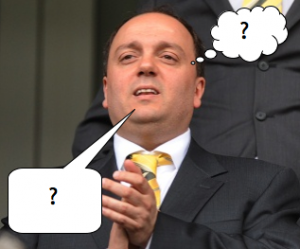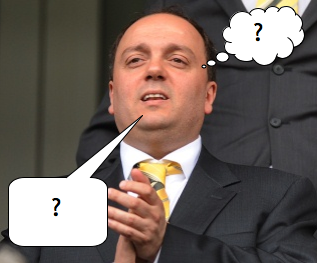 As the season draws to a close and summer takes the place of spring, it's not just the weather that is hotting up. The takeover of the club by Laurence Bassini hit a major new milestone over the past couple of days, with the quantity of shares he owns going over the 90% mark.
This figure is important for a number of reasons. Firstly, it means that those who have so far decided not to sell their shares, no longer have a choice. Mr Bassini now has a right to purchase all remaining shares. Secondly, this means that Laurence Bassini is now in sole control of Watford Football Club. He's our new owner. In my eyes, this means that we as fans now have the right to start expecting answers.
Let's be clear about this – Watford needed a new owner and a fresh injection of cash. We have been surviving, but only just. The long term future of Watford has been precarious for some time and there have been precious little offers to help us out. Mr. Bassini and his associates have been the only apparently credible solution to our ongoing financial woes.
Takeovers are complicated things and I'm sure I'm not alone in accepting that whilst negotiations are going on, it's hard for the parties involved to discuss plans in any detail. With the acquisition of over 90% of the shares, this is no longer an issue. Laurence Bassini has what he wanted – control of the club. Now it's time to tell us, the fans, how and when he is going to achieve what he told us he will.
The new pitch. A re-developed East Stand. Completing the half finished building work at Vicarage Road. Not things that can happen overnight, but things that Mr Bassini has openly said will take place under his ownership. Good to hear. What will be even better to hear is how and when.
Negotiations have been taking place for some time now, affording plenty of time to finalise plans so that work could commence, or at least a timeline approved and communicated. I don't know about you, but if I bought a football club that I was going to help out, stabilise and improve, I'd want to tell the world exactly how I was going to do it. I'd certainly want to tell the fans – my new customers.
So far, we've heard precious little. An interview in the Watford Observer some months ago outlined broad plans. An open letter in the same paper got a response from Mr. Bassini which asked for patience. Well, patience we can do. If we are told that the East Stand will be complete in the summer of 2012, we'll wait. If we are told the pitch will be relaid before the start of next season, that will be fine. If there are reasons that mean that the remaining work a Vicarage Road can't take place until 2015, well OK. We'll wait. We just need to know. Patience is all well and good, but we need to know exactly what we are waiting for in order to exercise it.
We as football fans are generally a pretty understanding bunch. Up and down the land, we come back week after week, travelling the length and breadth of the country, buying tickets and replica shirts regardless of how our team performs. This commitment shouldn't be misinterpreted though. We come back because we care. We come back because we are passionate. Fans don't just invest their money into football clubs, they invest emotion. They invest their souls. We don't actually expect much in return, but we do expect to be treated with respect and honesty.
Businessmen are busy. Especially ones who buy football clubs, and I'm sure none of us expect daily updates as to what is happening at WD18. However, businessmen also understand the power and the importance of the customer, so I'd be surprised and slightly alarmed if our new owner didn't find the time to tell us what he has up his sleeve in the coming days. Watford is his club now and as Hornets fans, we're very keen to get acquainted.
I'm not saying that we should panic or worry; we're supporters of the club and we should continue to do just that. Let's just hope that Laurence Bassini realises the importance of explaining to us exactly how he is going to do the same.
In his letter to the Watford Observer, Mr. Bassini wrote that 'actions speak louder than words'. Well, the time for action is surely upon us.
Come on You Horns.
Mike
Remember you can get these blog posts straight into your inbox by entering your email address in the "Subscribe by Email" box in the right hand column of this page. Or if you're really technical you can use this RSS code