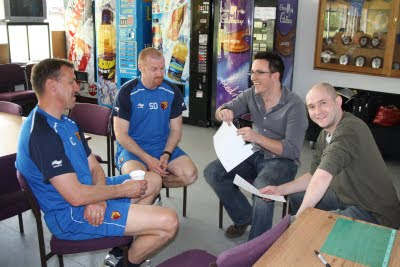 With four games left in this season Jon, Mike and Jason chat about the 'business end of the season.
We look back at Watford's two points from a possible twelve in the games against Coventry, Hull, Norwich and Leeds. Plus, get reaction to the Barnsley home win.
Interviews this month come from two former Watford players turned coaches. We talk about life as part of Malky's management team with Assistant Manager Sean Dyche and Goalkeepeing Coach Alec Chamberlain.
We also chat to an England International, well international cricketer. Mike caught up with England Fastbowler (and life-long Watford fan) Steven Finn. Phil Brown goes into the I'm a Stupid Football Manager Jungle where Danny and Martin have a special trial for him and and there's a song – don't groan they all come from the heart, if not the an in tune voice box. This one is for Martin Taylor and it's a Beyonce song.
Come on you Horns!