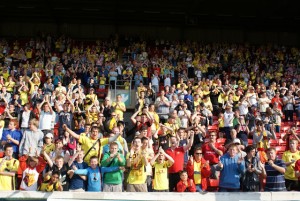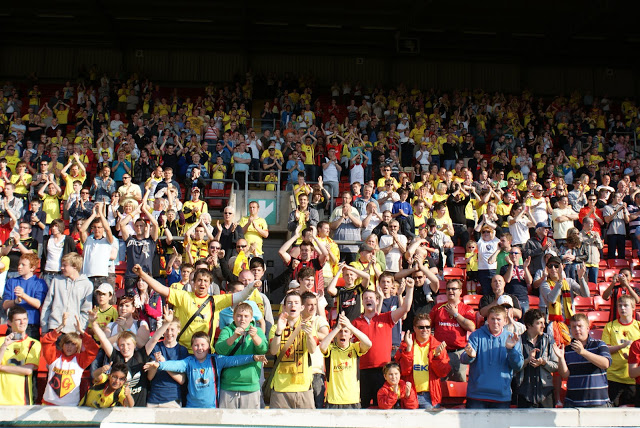 This post was originally in the Watford vs QPR matchday programme, hence the QPR references, on Saturday 30 April 2011.
Has it really been 9 months since the season started? Mike Parkin of the 'From The Rookery End' podcast looks back at the highs – and there were plenty of them.
Well that's it then. Vicarage Road is closed for (football) business until the new season kicks off again in a few months. It looks like our visitors today will be plying their trade in the Premier League next season thanks to the contributions of a battalion of ex-Hornets, including legends Tommy Smith and Heidar Helguson, so it's only right they pop in and express their gratitude to us today. What's that? You couldn't have done it without us? We know, we know…
Of course, we haven't had a bad season ourselves have we? Things are never usually dull at Watford for one reason or another, but it's been a true joy and privilege to be a Hornet this season, so I thought I'd use this edition of the programme to recount a few of my highlights.
This has been the first full season for me as a Dad and the club have made ensuring my daughter grows up a Hornet easy. From meeting John Eustace, Malky and Harry the Hornet at the pre-season open day, to the helpful attitude of the stewards as Florence, her pushchair and what felt like a thousand bags made their Vicarage Road début against Doncaster, Watford have done a magnificent job in living up to their famous 'family club' image.
The slightly older generation was catered for away from the action too. A series of 'At your place' events gave us mere mortals the chance to quiz the likes of Malky, Julian Winter and a number of high profile first team players at an array of local venues. Questions weren't censored and were answered with honesty and no little humour. Illuminating and heart warming in equal measure, it isn't every club that would let the management and senior players loose in a pub with 200 or so fans.
There was some pretty pleasing stuff on display on the pitch too. Martin Taylor and Don Cowie have been exceptional, whilst Will Buckley has shown enough to put a smile on supporters faces and a horrified look on those of opposition defenders. Scott Loach has been called into numerous England squads and John Eustace has firmly underlined just how important he is to our club. Before the season began, many of us were concerned that we were going to be reliant on youth. We needn't have worried. Matty Whichelow, Marvin Sordell, Piero Mingoia and Adam Thompson have played an enormous part this year and have showed themselves to be hugely impressive young men and professionals whilst also highlighting the importance of our Harefield set-up.
Not missing anyone am I? Ah yes, you there, with the tattoos and the vest under your shirt. Graham isn't it? Yes, Danny Graham. You appear to have done reasonably well, developing a desire to score goals. All the time. Let's have 40 next year though eh?
The entire squad have played their part and in doing so have put on some unforgettable performances. Today's visitors won't enjoy being reminded about playing host to us in front of the TV cameras and if Kenny Jackett was expecting any favours from his former employees, he was sorely disappointed. Six times. Then of course there was the seven game winning streak in which we demolished promotion hopefuls Cardiff, before eventually coming unstuck in the return fixture.
That trip to Cardiff saw us take the 'From the Rookery End' podcast on the road and listeners will have heard the disappointment of defeat and being told to 'Do one' when requesting an interview with Craig Bellamy was negated by a quick chat and a picture with boxing legend Joe Calzaghe. You never know who you might run into supporting Watford! Doing the podcast has really reaffirmed how lucky I am to be a Watford supporter and has been the main highlight. My fellow presenters and I have met many of you during the course of the season, including Curtis and Geoff who came all the way from Denver to watch the Hornets in action. We've been lucky enough to interview players, the manager and the Chief Executive. We've watched training and seen the youth teams in action. We've even met Lloyd Doyley. It's been brilliant, due in no small part to the club trusting and appreciating us, the fans. It's a nice feeling – long may it continue.
There have been mistakes this season, but in the main the club has played a blinder. Thanks to everyone involved for making the 2010/11 season one to treasure and remember.
Come on you Horns!
Remember you can get these blog posts straight into your inbox by entering your email address in the "Subscribe by Email" box in the right hand column of this page. Or if you're really technical you can use this RSS code