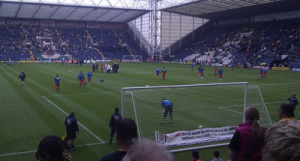 Watford's last game of an eventful season took place at Deepdale, the home of relegated Preston North End. Despite the unhelpful early kick off time (12:45?!) over 500 Hornets fans made the long trip North. Among them was 'From the Rookery End' listener Anthony Halpin, who shares his thoughts on the trip below.
A huge thanks to Anthony for taking the time a) to go to Preston and b) to write about it for us. Enjoy!
I set off for Watford Junction, catching a train to London Euston at 7:28am, which I'm sure you'll agree is rather uncalled for on a Saturday morning. After catching the Preston train, our early morning efforts were rewarded when my friend and I managed to obtain free First Class Tickets. I could tell you how we got them, but I'd have to kill you!
Shortly after getting comfortable, we were greeted by the unmistakable sight of Mr Bassini and Mr Panos Thomas. They approached us in a polite manner, before asking us to move – apparently we were in their seats! For the rest of the journey they appeared to be in deep conversation with current Board Member and Ex-Chairman Stuart Timperly, and several other unidentified people. Not wanting want to risk interrupting anything important, we left them to it.
The walk to the ground was one of the easier ones I've had, a twenty minute walk to Deepdale from Preston Station. After having a short look around the town, it was decided that the best bet would be to head straight to the ground for a few pre match drinks and by using a combination of my phone's GPS (Incredible things these days) and simply following depressed people in white football shirts seemingly in a depressed state, we quickly found ourselves at the ground. Once there, I forked out £3 for a flimsy programme that made ours look like an encyclopaedia (Not every programme is lucky enough to have a From the Rookery End page! – Ed).
About 30 minutes prior to kick off, I knew it was going to be one of those days. With the players warming up and taking shots at Scott Loach, I noticed a large sign saying "Warning! Balls may be kicked into the stands during the warm up. Please take care!" It proved to be a wise warning, as Danny Graham, Lee Hodson and John Eustace all blasted balls into the crowd within the space of about 45 seconds. Not a good sign.
Preston, like us, decided to have their annual awards on the pitch just before the game, however most of the fans would have been looking at something else. A plane flew over Deepdale four times, with the message "Poor Little Preston, Enjoy League 1" which raised a laugh from the Watford supporters.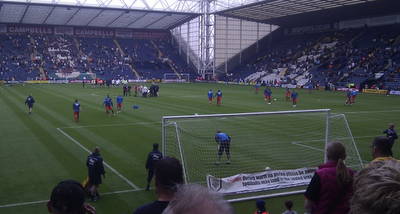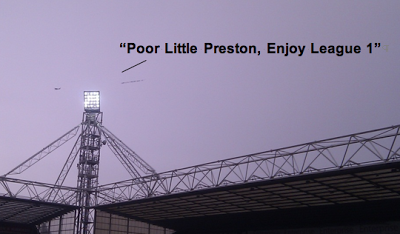 As the match kicked off, the atmosphere felt like a home game, with the "Yellow Order" making all the noise at the back and the quieter supporters at the bottom, nearer the front. Had we not had some really good seats, we most likely would have moved up to the top to enjoy the atmosphere.
The game started really well for Watford, with the first twenty minutes starting like we had for most of the season, bursting out the blocks, creating several chances and scoring, with selfless Danny Graham turning provider for Andreas Weiiman who turned in his cross to give Watford the lead.
Watford created several other chances, with Sean Murray catching the eye, before what seemed to be the turning point in the game took place. Martin Taylor has been an absolute rock this season. Not only is he a giant lump at the back who'll win any header, but he's a really good footballer too. In the space of twenty minutes on Saturday, he intercepted countless Preston passes, whilst completing a number of his own too. The game changed when he went down injured in front of us at the Watford end, his frustration clear as he took of his boot and slammed it to the floor as he struggled to stand on his ankle.
As we applauded 'Tiny' from the pitch we were treated to a Watford debut for young Tommie Hoban, who for the rest of the first half played extremely well. Despite a bright start, the Preston equalizer was a major disappointment. I've only seen the goal once since I got back, but it looked as though Loach could have done better with what was a shot from distance. Preston smelled blood, and took the game straight to us, cracking efforts against the crossbar twice before the end of the first half as Watford struggled to create chances.
The half time highlight came when just before the second half began, the plane made another appearance! This time the message behind it said 'We are always superior, love Blackpool FC' causing more laughter from the away fans and miserable faces among the Preston faithful. However, their team soon gave them something to smile about, beginning the second half as they ended the first – well on top.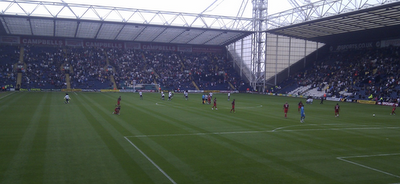 Prior to their third goal, we knew it wasn't going to be our day, when Marriappa missed a header that on any other day would have gone in, Doyley's goal bound shot was blocked by a Preston defender, and Weiiman missed a good opportunity all in quick succession. Of course Preston's third came as we were seeking that elusive equaliser. The defence, like so many times this season went to sleep and after a bit of fancy footwork from the Preston player, Loach was beaten for the third and final time.
As the final whistle went the Watford players headed to the away supporters, throwing their shirts to the crowd, including John Eustace who gave his to a 7 year old lad, with his hair coloured red and yellow, which was a touch of class. As the supporters applauded the players and Malky for their success and efforts this season, there was a connection between the two groups which I'm sure a number of us felt.
On the journey home I thought about the whole season, and realised that it has been a real success. Danny Graham, top scorer in the league. Malky Mackay delivering some great results.. The academy proving its worth yet again. It's been a season full of positives. However, I'd like to finish by simply saying thank you. Thank you Malky Mackay, thank you Watford Players, thank You Graham Taylor, thank you Julian Winter, but most importantly of all, thank you Watford Football Club.
And thank YOU Anthony for sharing your thoughts on the season finale, great stuff. Don't forget, if like Anthony, you would like to get involved with 'From the Rookery End' you can visit the Facebook page at facebook.com/rookeryend or get in touch by emailing us at podcast@fromtherookeryend.com

Come on You Horns!
Remember you can get these blog posts straight into your inbox by entering your email address in the "Subscribe by Email" box in the right hand column of this page. Or if you're really technical you can use this RSS code