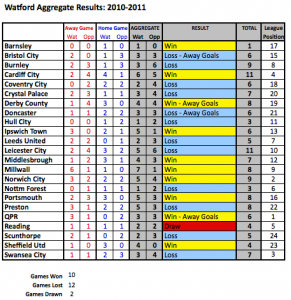 23 oppositions played home and away. A Championship season is 46 games, each one lasting 90 minutes, each giving a result – Win, Lose or Draw. However, what if every Championship result was done on aggregate?
With that thought on my mind, and for a bit of fun and to take a different look at the 2010-2011 season, I've put together the home and away results for every Watford results from the last season to see if things looked a little different. Oh, and away goal rule was enforced.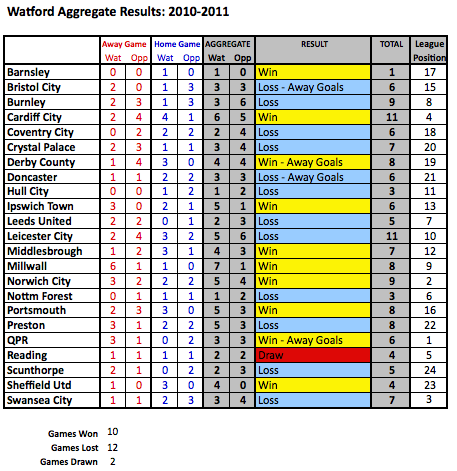 10 wins, 12 losses and 1 out and out draws.
I'd kind of hoped for a significant difference, a way of showing that we've had a season worthy of higher finish in the league. It certainly felt like a finish higher then we achieved. But the results still make sense for a club that finish 14th out of 24.
A few things stand out – The most boring games were our clashes against Barnsley – only 1 goal in 180 minutes. And the most entertaining seems to be our games with Leicester and Cardiff – 11 goals in each tie.
One interesting point is our record against the clubs that finish top and bottom of the league.
Top 2 – both wins – and we beat both at their place.
Playoff places – 1 win, 2 losses and a draw.
Bottom 3 – Only 1 win and 2 losses.
So does anything stand out for you, do any of the aggregate results paint a better picture of a the performance you saw on the pitch and do any of them make you proud?
Jon
Remember you can get these blog posts straight into your inbox by entering your email address in the "Subscribe by Email" box in the right hand column of this page. Or if you're really technical you can use this RSS code