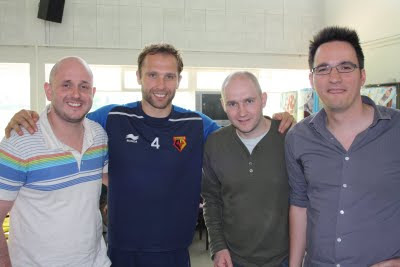 The football season may have come to an end, but there is still plenty for Hornets fans to enjoy, as the 12th 'From the Rookery End' podcast is now available for you to download.
The end of season special features the 2nd annual 'From the Rookery End' awards, honouring the players and performances that we've enjoyed the most, along with a song for popular manager Malky Mackay and an extensive interview with club captain John Eustace.
Yes, Mike finally got to meet his current Watford hero. We were also lucky enough to chat with the players we chose as winners and it was great to hear their thoughts on their performances and the season as a whole. Talking to John Eustace was a real highlight, as club captain he has been one of the most influential men at Vicarage Road this season and to spend some time in his company was both exciting and enlightening. I'm sure you'll enjoy hearing from him.
If you are a fan of our forays into singing you may or may not be pleased to hear that an Elton John classic has been reworked as a tribute to Malky Mackay. And on top of the awards and interviews Jason has a run of the potential summer ins and outs at Vicarage Road.