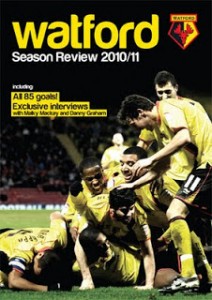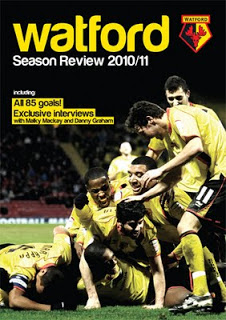 I don't own many Watford videos or DVDs, but I fancied picking up the Season Review 2010-2011 DVD from the Hornets Shop – so I did. Jason, Mike and I have talked about the season extensively in Podcast 12, and the DVD runs you through the whole season, game-by-game, goal-by-goal. I thought I remembered everything that happened, but there was plenty of moments I'd forgotten. The injury time penalty Coventry won against us, which 10 month later it still isn't a penalty. There is Malky being sent to the stands for controlling the ball before it had left the pitch when we lost away at Middlesbrough and there's a funny hand waving gesture that Troy Deeney made after scoring his first two goals.
It's a well produced DVD and includes every single goal. It's great seeing them all again, but as these aren't highlights I was left wanting to see more of games. Should that matter? Maybe not. As I watched our 3-0 home win against Sheffield United with two former hornets being sent off I was reminded of how I felt watching that day in the Rookery. And maybe that's all I need, but I didn't get to see some of the great team performances I remember. All 6 away goals at Millwall and the 3 goals from that Friday night away at QPR are fantastic to see again, but I did want to see some more of the football in-between all the goals. Lots of the enjoyment of watching football are the 5 near chances that build up the tension before the 6th attempt leads to a goal and there is much celebration.
The DVD includes two lengthy interviews with our now former striker Danny Graham and former manager Malky Mackay. Watching the DVD two days after MM's departure was a little weird, however they are two of the most important men in our 'successful' 2010-2011 season. We were tipped for relegation, so hearing how they felt looking back on the season was very interesting. Plus this DVD isn't just for now, it's a every more and it wouldn't be a complete season DVD without hearing from them.
I'm sure I will pick it up and watch it every so often to remember what I think was a great season. Not a classic season, not a season with a promotion or cup run, but a season that had great games, great goals, a decent kit and the introduction of young players that we'll see for years to come. More importantly it was a season to be proud of and I certainly felt proud while watching the Watford Football Club 2010-2011 DVD.
— Jon
Remember you can get these blog posts straight into your inbox by entering your email address in the "Subscribe by Email" box in the right hand column of this page. Or if you're really technical you can use this RSS code