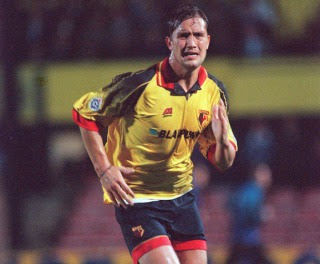 Here at From the Rookery End, we generally like to look to the future, talk about the present, the here and now. Occasionally though, it's nice to take a look back and with the Hornets entering a team into the London Masters – now less than a week away, what better excuse is there to talk to a true Watford FC cult hero.
Craig Ramage, or "Rambo" as he was affectionately, if unimaginatively known, signed for Watford from Derby in 1994 and went on to make 104 appearances, finding the net 27 times in the process. It was Ramage's flair and attacking prowess that made him an immediate hit on the terraces, although after an exhilarating first season, things started to go slightly awry after he enjoyed his summer holiday a little too much. More of that later.
This Saturday, Craig will pull on the Watford shirt once more as he joins fellow Watford alumni Kevin Miller, Derek "Freddie*" Payne, Nicky Wright, Steve Palmer, Marcus Gayle, Micah Hyde and captain Tommy Mooney in representing the Hornets in the Selco London Masters at Wembley Arena. He's taking it seriously too. When we caught up with him on Monday, he was just back from a training run…
"It's good fun, but it's hard work and really competitive. It seems to have got more competitive as time has gone on. There seem to be greater numbers of younger players out there now and professionals never lose that edge, that will to win. When we cross the white line, all we want to do is win, whatever we are doing."
Whilst Craig is clearly taking part with a view to winning, he was obviously excited about catching up with his old cohorts, many of whom featured when asked what his fantasy Watford Masters team would be:
"I can't wait. It'll be great to see some of the old faces. I had a great time at Watford and it's always good to see the boys again. It'll be a lot of fun. If I had to pick the perfect Masters team, Hessy (Andy Hessenthaler) would have to be involved, simply because of his legs. He's non stop! I'd stick Colin Foster at the back and perhaps get Kev Phillips up front, but the team we're putting out is pretty good as it is."
A decent team it is too. I'm sure it isn't just Craig that's looking forward to seeing the likes of Mooney, Hyde and Palmer wearing yellow again. What of the current crop though? What does he make of the current goings on at WD18?
"I'm sad that Malky left. He had Watford playing some good stuff last year and it was a shame to see him go. Sean Dyche will be a good replacement though, young, hungry and enthusiastic. He'll have picked a lot up from Malky over the years and that will stand him in good stead. He's lost a number of big players, so survival is the big one for him, the main target. Staying up and remaining established as a Championship club has to be the focus."
Watford have some excellent youngsters and if I was Manager, I'd have no hesitation in getting them in the team. If you're good enough, you're old enough, it really is as simple as that. As a youngster you are confident. There is no fear, you don't feel the pressure. I remember when I was starting out, all I wanted to do was play. I was too excited too worry about any pressure – that comes as you get older. As your career moves on more is expected of you, and you expect more of yourself – that's when pressure can start to take it's toll. As a youngster if you have a bad game, you immediately think about the next game and how you'll do better then. It gets harder to do that as you get older.
That's not to say you don't need experience in the team too. When I started out at Derby I had great help from the likes of Dean Saunders and Mark Wright. They were always positive and supportive – if I ever made a mistake they'd keep me going, they never got stuck into me. It's important that if the youngsters at Watford are to succeed, they get that support from those with a few extra years and experience under their belt."
Confidence from Craig, then. There's a surprise eh? It was of course his confidence that helped secure cult status amongst Watford fans – few who were there will forget his "smoking an imaginary cigar" goal celebration after scoring at Southend. Were there any other favourite celebrations?
"The one I really remember was rubbing my stomach after scoring against Stoke. It was my first game back after being dropped – I had come back from the summer break a little bit out of shape and Glenn Roeder dropped me. I came back and scored two, a header and a free kick and that celebrations was just a bit of fun. I can't recall too many other celebrations, I was always just happy to score. Those two goals against Stoke are probably my favourite. A header and a free kick. To do it after being left out for so long felt really good."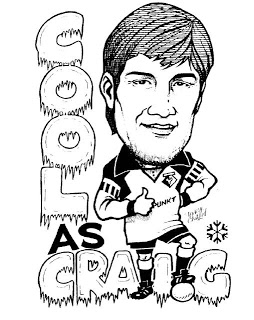 Whilst Craig couldn't remember many of his own celebrations, he recalled with a chuckle one Watford supporter's over zealous reaction to a late winner:
"I scored a last minute winner in a home game with Port Vale. It was 2-2 and I scored to give us a 3-2 win. The place went mental and some of the fans came onto the pitch too celebrate. I remember one chap came skipping on, happy as larry until he slipped over and went ar*e over t*t. I was getting stick from the boys as they said it was rare for me to be still going after 90 minutes, but I was too busy laughing at this guy to notice!"
So, when they weren't invading the pitch and falling over, what does Craig think of the Watford faithful?
"The Watford fans were great to me. They were without doubt the best fans I played in front of, always supportive and I loved performing for them at Vicarage Road. At some places supporters are quick to get on player's backs, but that didn't seem to happen at Watford. Great fans."
And we love you too Craig. Before he went, there was time to answer a few questions sent in from From the Rookery End listeners.
Yes, he still has a "Cool as Craig" t-shirt. His wife wears it as a nightie.
No, he couldn't have made it as a County cricketer (although he did open the batting when he played for his club)
A wry chuckle was the only response when asked if he held the record for being the quickest to down a pint at Watford. I'll leave you to decide what that means…
So. That was what Craig had to say. It was a hugely enjoyable chat with a top bloke who clearly has some very, very fond memories of Watford. It was great to relive some memories from those games in the 90's where Ramage proved a few glimpses of excitement and fun in what was, in the main, a fairly trying time to be a Watford fan. I'm looking forward to seeing what he's got left in the tank at Wembley on Saturday.
I reckon he's still got it.
Come on You Horns!
*If you don't know already, you don't want to know!