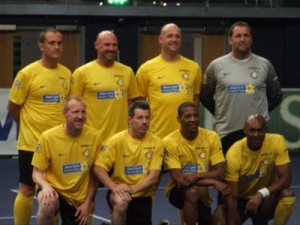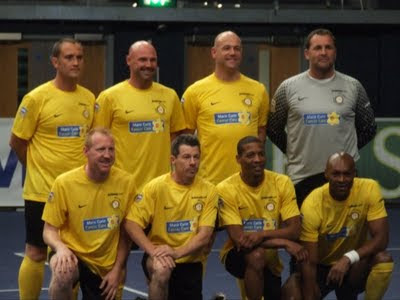 Whilst the class of 2011/12 were busy trying to impress new boss Sean Dyche in Watford's fist pre-season fixture of the season at Borehamwood, a few miles away at a packed Wembley Arena a team that have nothing to prove were storming their way to an impressive victory.
Under the captaincy of Watford legend (Sir) Tommy Mooney, the Watford team that took part in the Selco London Masters was always going to be a competitive and well organised outfit. In their first game against "North London giants" Arsenal, It quickly became clear that the team of Kevin Miller, Marcus Gayle, Derek Payne, Craig Ramage, Steve Palmer, Nick Wright, Micah Hyde and captain Mooney were much more than competitive. They were frightening!
Arsenal were swept away 3-0 and the charge was on to the Final (via a 2-2 draw with Spurs) where Watford despatched QPR 3-2.
Throughout the course of the evening, your intrepid trio of FTRE reporters caught up with the Watford squad for a great series of interviews, which is available now as a free bonus podcast. Download it from iTunes or download/stream it from this very page. You can also check out some exclusive photos we took on the night on our Facebook Page.
So, we've given you pictures. We've given you exclusive interviews. What else can we offer you? Well, what about tickets to the Masters Grand Final for just a fiver? Sound good? Your wish is our command…
Thanks to the good folk at Masters Football, Watford fans have the opportunity to purchase tickets for the Grand Final, to be held at the MEN Arena in Manchester on Sunday 4 September, for just £5.
To take advantage of this offer simply visit www.mastersfootball.com, click the buy now tab on the Grand Final section of the homepage and then enter the promo code MOONEY where directed. The offer applies to lower tier seats and tickets must be purchased by Friday 1 August.
The Watford Masters team were delighted by the number of Hornets fans at Wembley and it would be great to get as many supporters to the Grand Final as possible.
Come on You Horns!
Remember you can get these blog posts straight into your inbox by entering your email address in the "Subscribe by Email" box in the right hand column of this page. Or if you're really technical you can use this RSS code