During last season's podcasts we ran what can only be described as a pointless game – Who would be Watford's top goal scorer? Straight off the bat Jason picked Danny Graham and the rest is history.
Did anyone pick Marvin Sordell (total 15 goals)? No he had hardly played first team football at that point. Surely someone picked John Eustace (total 6 goals)? Again no, I mane who would pick an anchoring midfielder? Mike picked attacking winger Will Buckley (total 4 goals) and I picked Stephen "the playmaker" McGinn (total 2 goals). I had hoped for a late season charge from McGinn to take over Danny, but alas his knee injury got in the way – how different things may have been.
After the travesty of last season, we're going to do it slightly differently this season. Our game this year is going to be:
Who will be Watford's top goal scoring defender this season?
You can take part and tell us which defender you think will find the back of the net the most by voting on our Facebook Poll.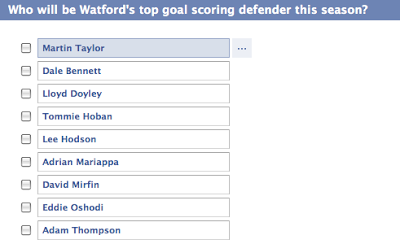 Martin Taylor was the 2010-2011 top goal scoring defender. His magical head and feet (but mainly his head) put SIX goals in the back of the next. In fact it was his highest scoring season of his entire career. What about the other defenders? Adrian Mariappa got 1, Lee Hodson, Adam Thompson got their career tallies off the ground with 1, and Lloyd Doyley scored… well we all know what Lloyd's tally was last season and every season he has ever played in! We could have given Dale Bennett 1 own goal, but no one is quite sure how to define that rebounded goal against Burnley last season.
You can hear our predictions in the From The Rookery End preseason podcast, which we record on Saturday 23rd July during Watford's away trip to Wimbledon. Look out for it on iTunes and on fromtherookeryend.com from Sunday 24th July.
Remember you can get these blog posts straight into your inbox by entering your email address in the "Subscribe by Email" box in the right hand column of this page. Or if you're really technical you can use this RSS code